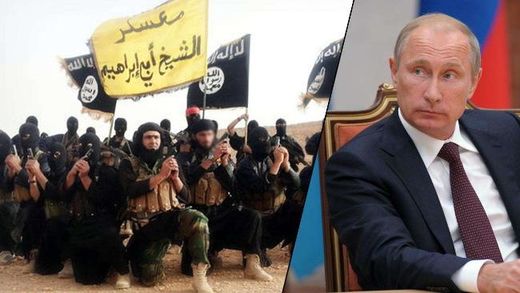 The next weapon in the fight against Islamic extremists in the Middle East might be Vladimir Putin. The Russian president discussed with his Security Council on Monday potentially contributing to fighting ISIS, according to Russian news agencies. The council "exchanged opinions on possible forms of cooperation with other partners on a plan to counter Islamic State
in the framework of international law
," Interfax quoted a Kremlin spokesman as saying.

Comment: The council's subtle way of saying the U.S.'s bogus coalition is NOT working within the framework of international law. They're right; it's not.


The United States has been trying to build a broad coalition to thwart ISIS militants in Syria and Iraq, but Russia has not been part of the conversation. "The anti-ISIL coalition is not a club party - we do not expect any invitations and we are not going to buy entry tickets," said Ilya Rogachev, an official in Russia's Foreign Ministry said last week. But Russia is a supporter of Syrian President Bashar al-Assad, whose regime is trying to stave off an insurgency that has included ISIS fighters.
ISIS could potentially threaten Moscow directly, too.
The group's ranks include Muslims from Russia's North Caucasus region, who have been waging their own insurgency in the mountainous region following two wars between Moscow and separatists in Chechnya.