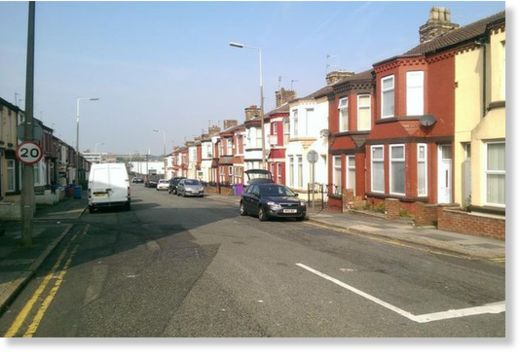 A couple in their late 20s were taken to Royal Liverpool Hospital after their dog turned savage and left the woman with serious injuries
A woman suffered a serious leg injury when she was mauled by her dog in Liverpool.
Paramedics and police were called to a house in Binns Road, Old Swan, in the early hours of this morning.
It is understood the Staffordshire Bull Terrier pounced following a domestic argument between a couple living in the house.
A Merseyside Police spokesman said: "On arrival patrols found a 29-year-old woman being treated for a bite wound to her lower leg and a 27-year-old man for an injury to his hand.
"Officers spoke to the couple and established that their dog had bitten them both during a verbal argument.
"The dog was detained by a trained dog patrol officer and assessed as being a legal breed.
"The couple however signed the dog over to officers to have it put down.
"Paramedics took both adults to hospital for further treatment."
North West Ambulance Service said it was called at around 2.30am.
A spokesman said the woman was taken to Royal Liverpool Hospital for treatment.
It is thought she was later transferred to a specialist plastic surgery unit at Whiston Hospital.
The man suffered a less serious bite injury to his hand.
One neighbour said the woman's two daughters were in the house at the time of the incident, but were not harmed.
He said he found the dog in his back garden and restrained the animal until dog handlers arrived at the scene.
He said: "It was covered in blood. I kept it safe in my garden and wouldn't let it go until the police arrived.
"They've got two little girls, they were in bed when it happened. They're fine. But it's a devastating thing. It's such a shame. They're a lovely couple.
"It was a Staffordshire Bull Terrier. She was a fully fledged Staffie.
"I'd say it was four or five maybe. I don't know what would make it turn like that."
He said the couple have another dog, the puppy of the dog that has been destroyed.
Another man living in the street described the incident as "scary".
He said: "I hope they're okay. I don't know the couple, they're fairly new to the road."
One resident said he heard noise coming from a house at the top of the street.
He said: "I looked out my blinds and saw three police cars and an ambulance. They were walking up and down the road. I didn't know what it was.
"The ambulance was parked right outside the house with its back doors open. There was a lot of noise."
The attack comes less than two months after the death of Old Swan woman Louise Caygill who was mauled to death by her pet Staffordshire bull terrier.
A close friend is understood to have reported their concerns for her safety at 10.46am on Sunday July 20.
The police turned up at the scene and found the 43-year-old dead in her bloodied kitchen.