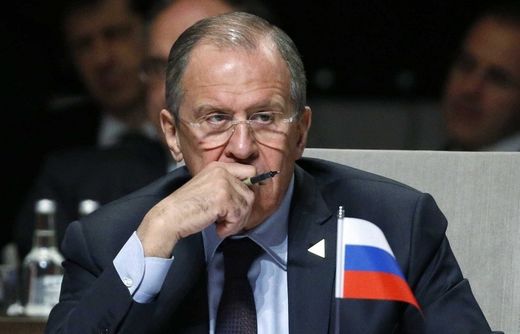 Russia will provide military and other assistance to Iraq and Syria in the fight against terrorism
, Russian Foreign Minister Sergey Lavrov said on the sidelines of an international conference on Iraq in Paris on Monday.
"We have spoken of our contribution to supporting the Iraqi government in their fight against terrorists, ensuring security of their state. In a similar way we provide military and other kind of assistance to Syria that is also facing a serious terrorist threat, maybe to a lesser degree.
We also provide assistance to our partners in Egypt, Lebanon, Yemen, Jordan. So we have something to contribute to the common efforts
," Lavrov said.

Comment: Translation: These countries are facing a foreign-created and foreign-supported threat, to maintain control of the region and counter Russian influence and interests there. There is a terrorist threat; however, the 'terrorists' involved are merely a proxy group working for Western interests.


No double standards in the fight against terrorists are acceptable
, Russian Foreign Minister Sergey Lavrov said on the sidelines of an international conference on Iraq in the French capital on Monday.

Comment: The reason the double standards exist is because the U.S. uses terrorist groups as a pretext to go in and invade sovereign nations, or they use them as mercenaries to take over a country they don't want to bomb themselves.


"We have long been raising the issue of terrorist activity that has dramatically intensified in the Middle East and in North Africa after the "Arab spring" events,
after the goals of overthrowing the regimes were set above the general goals of preventing the terrorism threat spread
," he said.
"We did this not for the sake of blaming somebody for the past, but exclusively for taking into account the past lessons in the international community's new actions and drawing the conclusion that no double standards are acceptable in the fight against terrorism, that
there are no good and bad terrorists and that it is necessary to take consistent action, without putting that or other political projects above the general task of combating terrorism
," Lavrov said.
"This also refers to such a phenomenon as
terrorist organizations that occupy oilfields and securely sell oil through channels established by them
," he pointed out.
"An emphasis must be laid on the need to prevent a swelling of the ranks of a terrorist international which young people readily join because of bad socio-economic conditions," Lavrov emphasized.
"Extremists also make use of the Palestinian problem that remains unresolved for decades, pointing to an unfair attitude to the Arabs in the Middle East," Russia's Foreign Minister added.