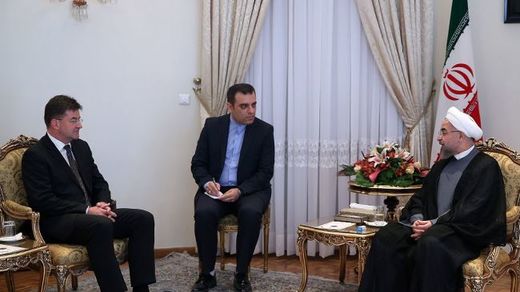 Iranian President Hassan Rouhani has cast doubt on the sincerity of the so-called coalition to fight terrorism, saying it is a "joke" that the countries which have supported and financed militant groups now seek to fight terrorism.
"
It is a joke that the countries which trained, equipped and financed terrorist groups now suddenly seek to fight these terrorist groups
," Rouhani said in a meeting with Slovak Deputy Prime Minister and Minister of Foreign Affairs Miroslav Lajcak in Tehran on Monday.
Rouhani expressed concern about growing terrorism in the Middle East, including Syria and Iraq, and called on all countries to adopt a unified approach to uproot terrorism.
The Slovak official, for his part, called for consultations between Bratislava and Tehran on serious security issues in the world to find a way out of the problems.
Slovakia supports Iran's status as a regional and international player, he said, noting all countries, particularly Iran, should use their potentials in favor of the campaign against terrorism.
Paris hosted a conference, dubbed the International Conference on Peace and Security in Iraq, on Monday to discuss ways of tackling the ISIL terrorists in Iraq and Syria amid US efforts to form a so-called international coalition to battle the Takfiri group.
Foreign ministers from the main European states, the five permanent members of the UN Security Council, Iraq's neighbors and Arab states of Qatar, Saudi Arabia, Kuwait, and the UAE attended the one-day conference.
Despite the international community's emphasis on the importance of Iran's role in the regional developments, Tehran was not invited to the meeting in Paris mainly due to the US opposition.
The US has also announced that Iran will not be a part of its so-called coalition against the ISIL.