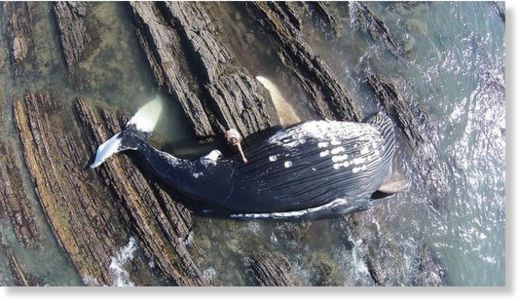 Two dead humpback whales have washed up on NSW beaches in recent days, prompting a reminder for swimmers to avoid getting too close to the giant "shark magnets".
One of the giant mammals reportedly washed up at Wallabi Point on the mid north coast on Monday morning, just a couple of kilometres north of Saltwater Beach where a second humpback carcass was found a day earlier.
"The one at Saltwater Beach was probably a juvenile while the other at Wallabi Point was much larger," said Dave Armstrong, who filmed the dead whales.
peteandcaz66 @peteandcaz66

@portmacnews whale found beached between Saltwater and Diamond Beach this morning
2:20 AM - 14 Sep 2014
While investigations will determine what killed the creatures, a ship strike is one possibility, said Rob Harcourt, a professor at Macquarie University.
Humpbacks are just starting to turn south again, including females with their young calves, he said.
Humpback numbers off NSW have recovered strongly since dropping into the hundreds in the 1960s as whalers preyed on a species that tends to migrate close to the coast.
The population is now about 20,000, after increasing at a rate of almost 11 per cent a year over the past decade, Professor Harcourt said.
"Young people now expect to see whales unlike some of us older types," he said. "We expect to see more and more of them washing up."
The recent heavy seas can also take their toll on weak or young whales, said Geoffrey Ross, a wildlife management officer with the NSW National Parks and Wildlife Service.
In a typical year, about 8-10 stranded whales will end up on the state's beaches, Mr Ross said.
Interesingly, humpback whales have been heading south earlier than usual this year, with some of them off Sydney passing animals migrating north, he said.
Hazards
Dead whales, though, can be a hazard to shipping as humpbacks weigh about 30 tonnes and others more than twice that.
The risk limits the ability of authorities to dispose of whale carcasses by dragging them out to sea unless they are broken up.
"We tend not to tow them out to sea any more," Mr Ross said.
Burying dead whales is another way to handle them, but only on remote beaches where leaching blubber is unlikely to affect visitors, Professor Harcourt said.
The dead whale at Saltwater Beach was buried in the sand, Mr Armstrong said.
Swimmers, though, are warned to avoid being in the water near a dead whale.
"I wouldn't swim next to a dead whale," Professor Harcourt said. "It's a shark magnet."
Leopard seal in Sydney Harbour
Sydney's north shore, meanwhile, is playing host to another rather unusual marine mammal, with a leopard sea being spotted near the Spit Bridge.
#Documentary @Jacqui_Hocking

Who needs to go to Antarctica when you can hang out with a leopard seal in.... Sydney (!!!??) #awe via @Davie_Hocking

1:59 AM - 15 Sep 2014 Central Region, Singapore, Singapore
An area has been cordoned off near a kayak hire site to prevent people from getting too close to the animal known to give a sharp bite.
"They've got a serious set of teeth," Mr Ross said.
Leopard seals can also move rapidly, with healthy adults able to outpace most humans.
"By the time you've turned and are ready to run, they'd be on to you," Mr Ross said.
Leopard seals are seen about once every year or two in Sydney Harbour, with up to eight spotted in a year in NSW waters.
The animals, though, have swum up from Antarctica hunting penguins and other prey and are usually fairly exhausted by the time they reach this far north, Mr Ross said.
The public should watch the seal, which weighs about 400 kgs, from a distance and avoid frightening it, he said: "They can be very dangerous."