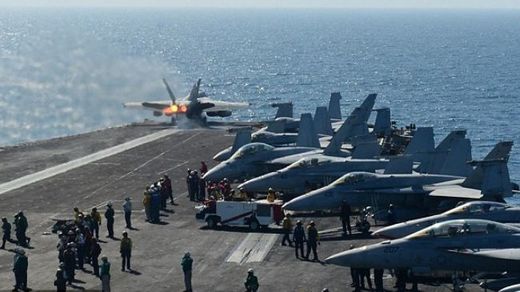 US President Barack Obama has threatened to wipe out Syria's air defense system and topple the Syrian government if President Bashar al-Assad ordered his forces to shoot American planes entering Syrian airspace.
He made the remarks during a meeting in the White House before his speech about Washington's strategy about the ISIL terrorist group,
The New York Times
reported on Sunday.
Obama ordered the US military on Wednesday to expand its bombing campaign against ISIL terrorists and launch airstrikes in Syria.
"If he [Assad] dared to do that, Mr. Obama said he would order American forces to wipe out Syria's air defense system, which he noted would be easier than striking ISIS (or ISIL) because its locations are better known," the newspaper said.
"He went on to say that such an action by
Mr. Assad would lead to his overthrow
, according to one account," the
Times
said.

Comment: No matter what Assad does, it could lead to his overthrow.


The US president also noted that ISIL made a major strategic error by killing American journalists James Foley and Steven Sotloff "
because the anger it generated resulted in the American public's quickly backing military action
."
During his televised speech on Wednesday, Obama said, "I will not hesitate to take action against ISIL in Syria, as well as Iraq."
"America will lead a broad coalition to roll back this terrorist threat," he said.
The Pentagon announced that the United States already has conducted more than 150 airstrikes against ISIL targets in Iraq.
Meanwhile, Syrian Foreign Minister Walid al-Moallem has warned the US and its allies against attacking ISIL targets on Syrian soil.
"Syria is ready to cooperate and coordinate with regional and international efforts to combat terror in accordance with UN resolutions and respect of Syrian sovereignty," he said in Damascus last month.
"
Everyone is welcome, including Britain and the United States, to take action against ISIS and Nusra with a prior full coordination with the Syrian government
," Moallem added.
On Sunday, US Secretary of State John Kerry said Washington will not coordinate its airstrikes on ISIL terrorists inside Syria.
"We're not going to coordinate it with Syria....
It's not a cooperative effort. We are going to do what they haven't done, what they had plenty of opportunity to do, which is to take on ISIL and to degrade it and eliminate as a threat
," Kerry said.

Comment: The statement by Obama could also be seen as preparation of the ground for a false flag attack. They just down one of their own planes, blame Assad, bomb Syria and overthrow the government.

The U.S. has no intent on eliminating ISIS being the ones backing ISIS and now openly funding it. The goal has been and remains to remove Assad from power.