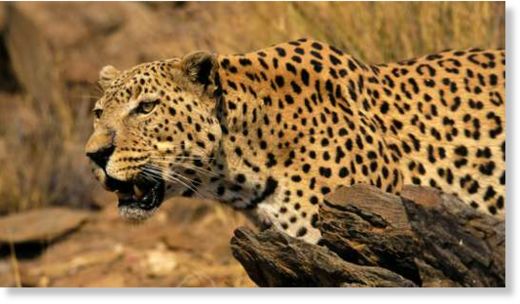 A leopard, on Monday evening, entered a wedding hall in Premnagar, injured a school teacher and triggered panic in the area. The animal escaped before forest department officials could capture it. The incident brought to light the department's incompetence and unpreparedness in dealing with such situations.
Sources said, Kiran Joshi, a teacher at Mahrishi Vidya Mandir had gone to Uttaranchal Wedding Point to discuss arrangements for a school function to be held at the hall, on Aug 5 and Aug 6, with the manager Nadim Kureshi.
As soon as Joshi pushed open the door and entered the hall to take a look at the facilities, the leopard, which was hiding inside pounced on her.
Kureshi, who was accompanying the teacher, immediately dragged her out and locked the door, thus locking the big cat inside. Joshi was rushed to the hospital where her injured left hand was operated upon and the forest department was notified as well.
Meanwhile, a large crowd gathered in and around the wedding point and police had to be called to manage them.
A team of forest officials led by ranger R P S Negi reached the spot two hours later and set up a trap. Five hours later, they realized they had not placed fresh meat in the trap. Failing to draw out the beast till 9pm, they placed two more traps in different areas of the building. Seeing no results even after another hour, they entered the hall armed with torches to find no signs of the leopard, thus concluding that the animal might have sneaked out to the forested areas behind the hall.
The forest officials were at the receiving end of severe public outrage for their incompetence and lack of preparedness. Ranger Negi retaliated saying his team could not endanger their lives by moving in close to the leopard and admitted that they are not trained to capture leopards.
S K Sharma, principal chief conservator of the forests said the team of the forest department did their best to tackle the situation and did not let any other attack happen on the site, adding that the department will fix traps in the area to capture the leopard.
The leopard scare has been prevalent in the area for past few months. The big cats have been sighted on and off, in the past few months, within the premises of Indian Military Academy and Forest Institute of India.
In another incident, a leopard killed a toddler on Monday night in Bageshwar's Majhgaon area. Two-year-old Gokul was sleeping in the courtyard, when the animal sprang in and sped away with child in his mouth.
The commotion alerted Rajender Singh, the child's father, who rushed outside, but it was too late. Later, the boy's mutilated body was found two meters away from the house.