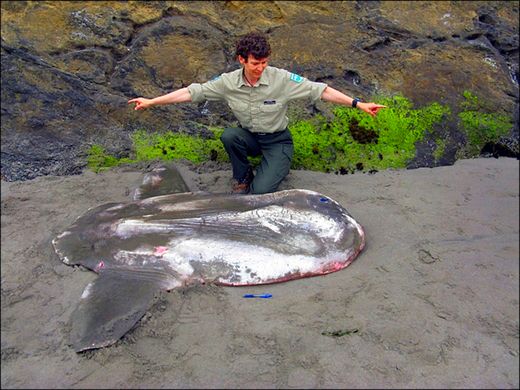 A 7-foot ocean sunfish
rarely seen in Washington waters
recently washed ashore on a beach at Cape Disappointment State Park near the mouth of the Columbia River.
It was found dead on the beach at low tide Aug. 27 by children after a campfire program, said June Mohler, a biological technician from Troutdale, Oregon, working this summer as an interpretive assistant at the park.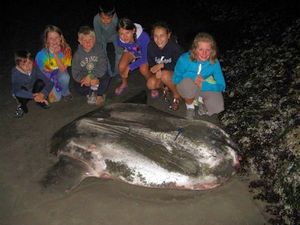 "It's really an odd-looking fish," she said Friday. It was taller - 82 inches from fin to fin - than its 70-inch length.
"I knew what it was," she said. The mola sunfish is around, "
but they're uncommon. Probably
more likely in warmer waters
."
Mohler estimated it weighed close to 300 pounds.
There was no obvious cause of death. A few days later, it had washed back into the ocean, Mohler said.