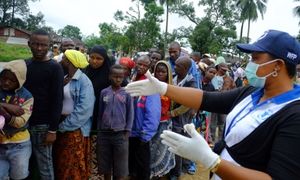 A third American missionary has been infected with Ebola while working in Liberia and is being treated in an isolation unit in the Monrovia hospital where he works.
The man, a doctor,
was treating obstetrics patients, not Ebola patients.
He is the second missionary working for SIM USA, a Charlotte, N.C.-based Christian organization, to contract the deadly disease.
It isn't known how the doctor was infected, SIM USA said in a statement Tuesday. He isolated himself as soon as he felt symptoms and "is doing well and is in good spirits," the organization said.
"My heart was deeply saddened, but my faith was not shaken, when I learned another of our missionary doctors contracted Ebola," said Bruce Johnson, president of SIM USA.
SIM USA didn't provide further details about the doctor, his treatment, or whether he would be evacuated. The organization didn't respond immediately to a request for comment.
The doctor is the third American to become infected with Ebola in the current outbreak in West Africa. Nancy Writebol, a SIM USA missionary, and Kent Brantly, a doctor working for Samaritan's Purse, another U.S. based Christian group, were evacuated last month to an isolation unit at Emory University Hospital in Atlanta.
Both recovered from the disease and were discharged
.
While it isn't known how the doctor became infected, health-care workers have been at particular risk. More than 240 have been infected in West Africa since the start of the outbreak, and 120 have died, according to the World Health Organization.
Those who work in the general health-care system rather than Ebola treatment centers are at greatest risk
, medical experts say,
because they are seeing patients who haven't yet been diagnosed with the disease and therefore haven't been isolated
.