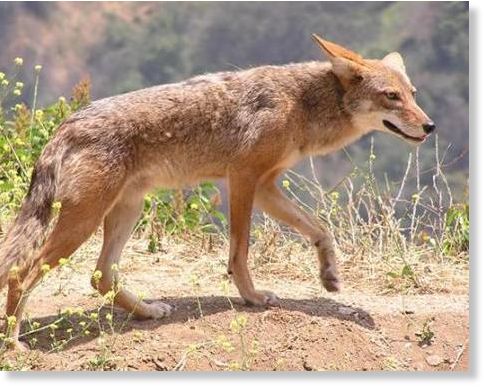 Another young girl was attacked by a coyote in Rye Tuesday evening while playing in her fenced backyard,
just days after a 6-year-old girl was attacked by a pair of the wild animals about a mile away.
The news came Tuesday night as Rye Police Commissioner Williams Connors was giving a speech at the Jay Heritage Center about police efforts to ensure public safety after Friday's coyote attack on 6-year-old Emily Hodulik on LaSalle Avenue.
Interrupting the talk, Connors received a call from an officer in the field stating that police were responding to an incident involving a coyote biting another child, this time on North Street in Rye.
The attack happened at 80 North St. while the girl was playing with friends in her fenced backyard.
Tricia Ellis, who lives next door to the family, said her daughter was playing in the backyard with the victim, a 3-year-old girl named Erica, when the coyote jumped over a rock in between two fences behind her and her neighbor's home.
Ellis' 6-year-old daughter, Stephanie, said she and Erica were making their way toward the Ellis' backyard when she turned around and saw a coyote was attacking the girl and "chewing on her neck."
Stephanie said she began to yell for her mother, who scared the coyote away and brought the children inside the home and called 911.
Ellis said Erica was covered in blood behind her ears and in parts of her hair. She said she could not immediately tell how badly Erica was hurt, but her injuries did not appear to be life-threatening.
Ironically, Ellis said she had shown her two children a picture of a coyote earlier in the day, so they would know how to respond if the animal approached them.
Police have yet to make an official statement about the incident, but Erica's father, who answered the door this evening after his daughter was transported to the hospital, told Rye Patch that she was bleeding from the neck, but that he was unaware of her condition. He said his wife was with their daughter at the hospital.
He declined to give his name or comment any further.
Coyote sightings are not uncommon around North Street. Many of the homes in the neighborhood share a backyard with the Rye Nature Center, so deer and other wildlife roam around the area.
Two neighbors of the family told Rye Patch they had just seen two coyotes around 8 p.m. in the neighborhood. At the Jay Heritage Center event, Connors said police received calls about the sighting of two coyotes near Midland School Tuesday around 6:30 p.m. It is not yet known whether these are the same coyotes involved in Friday's attack.
Westchester County Police and Rye Police were still at the scene of the incident around 8 p.m. About an hour later, the Rye Fire Department was on scene, as well as two officers toting what appeared to be rifles. One of them was seen going behind 80 North St., in the direction of the grounds of the Rye Nature Center.
Police told Rye Patch that the coyote may still be hungry, so it is likely still in the area, which could make it easier for police to locate and trap the animal.
On Monday, Connors said though officials advocate humane trapping and release of coyotes, the police have no choice other than to be more aggressive in their efforts,
since the animals have become less fearful of humans and more willing to approach, and in some cases, attack people.
Nevertheless, coyote attacks on humans remain extremely rare. On average, only six attacks occur in the United States each year.
Experts describe the animals as generally timid, leaving officials struggling to explain exactly why the attacks are happening.
One key factor is that coyotes have dramatically expanded their range and are now found in more metropolitan areas in North America than ever before, according
to a recent study on coyote attacks
on humans and animals by Lynsey A. White and Stanley Gehrt from Ohio State University's School of Environmental and Natural Resources.
They looked at 142 reported attack incidents and found a slightly higher number of coyote attacks on children than adults, but that the majority of the attacks classified as "predatory" involved children.
Rabies didn't appear to be a major factor
, but attacks were more likely in spring and summer, reflecting the greater time spent outdoors. They also suggested in the report, published in October 2009 in the periodical
Human Dimensions of Wildlife,
that homeowners might unwittingly play a role by leaving pets or pet food outside unattended.