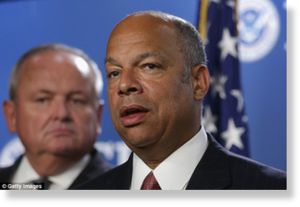 The Department of Homeland Security quickly denied claims on Friday from a watchdog group that the Islamic State of Iraq and al-Sham (ISIS) has militants stationed in Juarez, Mexico who plan an 'imminent' attack against the United States.
A DHS spokesman was bewildered, telling MailOnline that 'we are aware of absolutely nothing credible to substantiate this claim' made by Judicial Watch, a center-right group.
'In Mexico?' the official said on the phone. 'I haven't seen that at all.'
An hour before Judicial Watch's report surfaced, Homeland Security Secretary Jeh Johnson said publicly that his agency and the FBI 'are unaware of any specific, credible threat to the U.S. homeland' from the terror network.
And during a late-morning media briefing, White House Press Secretary Josh Earnest said flatly that 'the most detailed intelligence assessment that I can offer from here is that there is no evidence or indication right now that [ISIS] is actively plotting to attack the United States homeland. That's true right now.'
Comment:
More information on the creation of
ISIS
.
Read the rest of the article
here
.