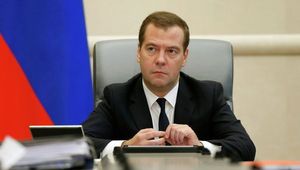 Russian Prime Minister Dmitry Medvedev expressed his concern Thursday over the disappearance of Rossiya Segodnya's Russian photographer Andrei Stenin (
#FreeAndrew
).
"Today,
we are all concerned
about the photographer from Rossiya Segodnya agency, Andrei Stenin, who
disappeared in Ukraine
, and we hope that he'll return home," Medvedev said at the opening of an exhibition in Moscow called
Looking Into War's Eyes
.
A Russian journalist working for Rossiya Segodnya International News Agency, Andrei Stenin, went
missing in eastern Ukraine on August 5
. Stenin's
current whereabouts are unknown
.
On August 9, Rossiya Segodnya
filed a request
with the Ukrainian Interior Ministry to take immediate action to locate the photographer.
Under pressure from an OSCE media freedom representative, the ministry responded, three days later, saying it was looking into Stenin's disappearance.
Rossiya Segodnya Editor-In-Chief Margarita Simonyan demanded "the speedy release of detained Russian journalists, including our freelance photographer who was carrying out his professional duty."
On August 12, Anton Herashchenko, an aide to the Ukrainian interior minister,
said in an interview with Baltkom radio
that security forces had arrested Stenin on charges of assisting terrorists. However, later Herashchenko claimed he was misinterpreted.
Stenin's abduction
is not the first incident with media representatives in Ukraine. Press freedom in Ukraine, especially in the country's east, has steadily deteriorated, with
journalists being detained, kidnapped, tortured and killed.
In June, a cameraman for Russia's Channel-1 television station was fatally wounded in the stomach. Prior to that, a reporter and a sound engineer from Russia's VGTRK media holding were killed in a mortar attack near Luhansk.
Please support Andrei Stenin's release by sharing the hashtag
#FreeAndrew
in social networks. Andrei is a professional war photographer reporting from the most dangerous war zones in the world. You can view Andrei's pictures from Iraq, Egypt, Syria, Libya
here
and his most recent shots from eastern Ukraine
here
.