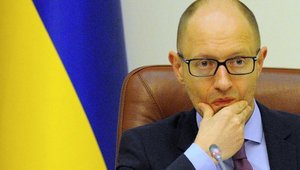 Ukraine needs to purchase additional five billion cubic meters of
gas from Russia
for the forthcoming winter season, Ukrainian Prime Minister Arseniy Yatsenyuk said Friday.
"Can Ukraine now survive without Russian gas? No, it can't. How much Russian gas do we need to buy? About 5 billion cubic meters," he said in an interview with Ukrainian TV channels.
He said that three-party gas talks, involving Ukraine, Russia and the European Union, are scheduled to take place next month.
"I hope there will be some final stage to these talks," he said.
He added that Kiev had reserved $3.1 billion for gas purchases in the National Bank of Ukraine.
On June 16, Russian gas giant
Gazprom
introduced a prepayment system for gas deliveries to Ukraine amid a dispute with Kiev over its $4.5 billion gas debt. The European Commission and Gazprom anticipate problems in winter, when Kiev is likely to run out of its own gas reserves.
The Russian compromise was a $100 discount to the contract price, bringing it down to $385, as well as a phased debt repayment scheme.
Ukraine declined the offer, dissatisfied with the discount mechanism.Current Ukraine's gas debt is estimated to be more than
$5 billion
.

Comment: How is it that Ukraine feels it can "decline" a break from a country it already owes more than Ukraine is worth for gas it has already consumed? If Ukraine is expecting help from either the EU or the US, whose bidding it does, it might possibly be in for a shock. Psychopaths have no trouble double-crossing an ally when that ally becomes a liability. Honor among thieves is a myth in the world of psychopaths.

It also puts Putin in a delicate situation. If he acts as a good capitalist, and refuses to deliver any more product until what is owing is paid, he will be labeled heartless. But neither can Ukraine be allowed to skip on the debt. Then he will be labeled weak. How Putin handles the situation bears watching.


Earlier, Ukrainian national oil and gas company
Naftogaz
suggested to European companies purchasing Russian gas on the border between Russia and Ukraine. The European Commission said it would require a renegotiation of the transit contracts and a trilateral meeting between the European Commission, Russia and Ukraine.
On August 11, Ukrainian President Petro Poroshenko discussed the possibility of resuming gas talks between Ukraine, Russia and the European Union with European Commission President Jose Manuel Barroso.