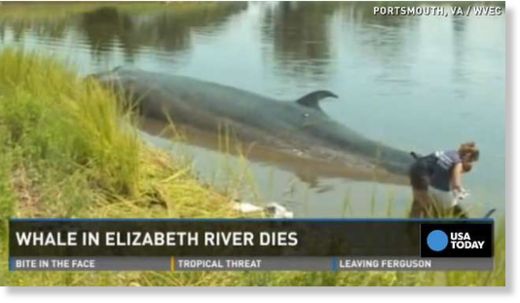 A rare whale that entered the Elizabeth River in Virginia earlier this week has died.
Joan Barns of the Virginia Aquarium & Marine Science Center says the whale died on Thursday. A necropsy is planned, including tissue and blood samples for further study.
The 35- to 45-foot sei whale was first spotted Monday in the river's Southern Branch near the Jordan Bridge and Paradise Creek.
Marine experts said the whale been acting strangely and may have been ill or disoriented. Boaters had reported that the whale appeared to be swimming without a clear direction.
The National Oceanic and Atmospheric Administration says
sei whales are usually seen in deeper waters of oceanic areas far from the coastline.
Source: The Associated Press