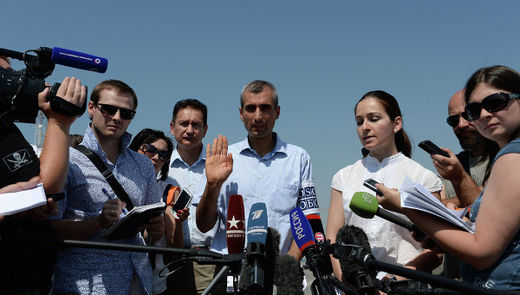 The Organization for Security and Cooperation in Europe's Special Monitoring Mission working on the Russian-Ukrainian border has not seen any weapons crossing between the countries, an OSCE spokesman working on the Russian side of the border said Tuesday.
"We have not seen any weapons. There was a question of whether we saw military vehicles crossing the border. Yesterday at two [border crossing] points we didn't see any military vehicles crossing the border," Paul Picard said at a briefing.
On August 15, Ukrainian President Petro Poroshenko claimed Ukrainian artillery destroyed Russian military hardware that had allegedly crossed into
Ukraine
at night.
The announcement came soon after a number of foreign news agencies reported that a convoy of military vehicles with Russian license plates crossed into Ukraine via the Izvarino border checkpoint.
The Russian Defense Ministry refuted the allegations, calling the claims a 'fantasy' that is not worth discussing. The Russian Border Guard Service also stressed that
the reports are not based on reality
and explained that cross-border regions were indeed being patrolled by mobile teams of border guards, but only on the Russian side of the border.
On August 17, the Special Monitoring Mission (SMM) working in Ukraine under the auspice of the OSCE also could not confirm the reports of Russian military convoys crossing the
Ukrainian border
.
On August 18, Russian Foreign Minister Sergei Lavrov said that Moscow supports the idea of equipping the OSCE monitoring mission with unmanned aerial vehicles (UAVs) to improve monitoring of the border
Kiev launched a special operation in eastern Ukraine in mid-April to suppress independence supporters who refused to recognize the legitimacy of the new authorities. Moscow has repeatedly urged Ukrainian authorities to immediately stop the punitive operation and seek a peaceful resolution to the conflict.