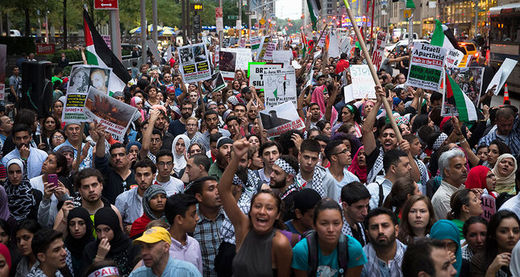 Thousands of peace activists have held a demonstration in New York City to protest against Israel's crimes in Gaza and the biased coverage they receive in the US media, Press TV reports.
Despite the rain, more than 7,000 people gathered on Friday near Columbus Circle on the upper west side of Manhattan to show solidarity with the oppressed people of Palestine, Press TV's correspondent Caleb Maupin reports from New York.
The protest, which was organized by the International Action Center, began in front of the headquarters of CNN, a news broadcaster that a demonstrator said is functioning almost like a public relations department for Israel.
"
The US media is absolutely biased. All we hear is pro-Israel [stuff]. All the leaders we hear from on television are Israelis
," Palestinian-American Mohammed Hamad told Press TV.
The march proceeded toward FOX news, a network that anti-war activist Sara Flounders said has a history of promoting militarism and aggression.
"
The US media, 24 hours a days, seven days a week, tells lies, especially when it comes to war, and totally supports Israel
," said Flounders, a principal leader of the International Action Center.
The crowd was diverse, including many youth. New Jersey student organizer Meghan Brophy said she sides with the Palestinians against the Israeli crimes.
"
The Palestinians don't have an army; they don't have a navy; they don't have any of these things. They are colonized people. The Israeli is an apartheid state
," she told Press TV.
A
counter-protest of Israel supporters was much smaller
, with less than a hundred people showing up for it.
The pro-Palestinian march from CNN to FOX news was escorted by a huge number of police officers, who often forced the crowd out of the street, and onto the sidewalk.
The demonstrators say they are planning
another rally on August 9
, during which they will symbolically march to the United Nations, demanding that it step in to protect the human rights of the Palestinian people.
More than
1,650 Palestinians have been killed
, including women and children, and thousands others injured by the Israeli regime's offensive against the coastal enclave despite pressure from the international community. The United Nations says
over 80 percent of the fatalities in Gaza have been civilians
.
The military wing of the Palestinian resistance movement Hamas, the Ezzedine al-Qassam Brigades, has been firing retaliatory rockets into Israel and killing dozens of its soldiers.