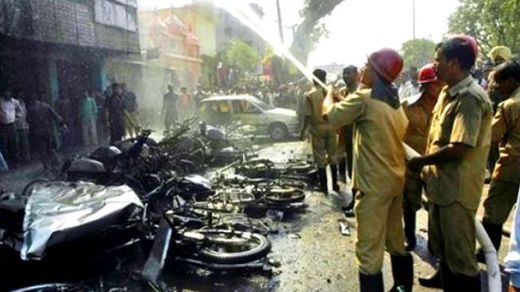 At least five workers have been killed when a massive blast ripped through an explosives factory in the central Indian state of Chhattisgarh, police say.
On Friday, the powerful blast completely destroyed the factory, which provides detonators and other explosives to mines in the mineral-rich state.
"The explosion was so powerful that the entire cement building was totally destroyed and the victims' bodies blown to pieces," said police officer Gurjinder Pal Singh.
Police continued investigating the cause of the blast.
The incident marks the latest in a series of factory accidents in India.
In June, six people were killed and 31 others injured following a poisonous gas leak at a steel plant in Chhattisgarh.
A powerful explosion killed eight people, including six children, at an illegal fireworks factory in northern Indian state of Uttar Pradesh in 2012.
In a similar incident months earlier, some 40 people were killed and 60 others injured in a blaze at a fireworks factory in the southern state of Tamil Nadu.
Experts say India's industrial accidents are often caused by a failure to comply with safety standards
.