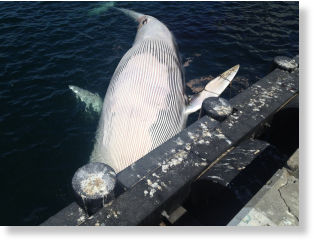 Scientists will try to determine what killed a 40-foot whale that floated into the port at the Port Hueneme naval base.
Kimberly Gearhart, a public affairs officer with the base, says the whale appeared to have been dead for some time and may have been struck by a ship.
Officials believe the animal is a finback whale. When fully grown, finbacks can reach nearly 90 feet in length, making them the second-longest animal in the world. The species is listed as endangered.
The Ventura County Star
reports biologists from the National Marine Fisheries Service arrived Wednesday to assess the situation.
The carcass has been secured to a wharf. After scientists take tissue samples it will be towed out to sea.
Source: Associated Press