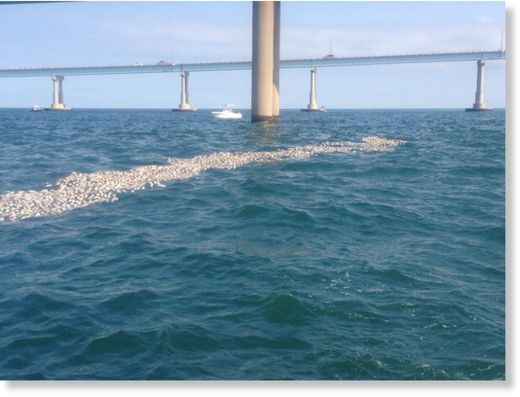 Thousands of dead fish appeared on the surface of the Chesapeake Bay over the weekend near the northern end of the Chesapeake Bay Bridge-Tunnel.
James Ryan, a fisherman of Virginia Beach, captured video of the unusual sight. He said the fish are bunker fish, also known as menhaden. Fishermen say menhaden can be used as bait for crab, or be harvested for fish oil.
Social media posts from area fishermen indicate a commercial boat from Omega Protein was in the area at the time. 10 On Your Side contacted Omega, and company spokesman Ben Landry said an Omega vessel was not and could not have been involved, because the company does not have fishing operations on weekends or holidays.
Environmentalists said such an incident would result from either of two likely causes - commercial fishing, when a crew hauls in more fish that it can store,
or poor water quality.
10 On Your Side is awaiting response from the Department of Environmental Quality and the Virginia Marine Resources Commission to find out more about how the fish were killed.