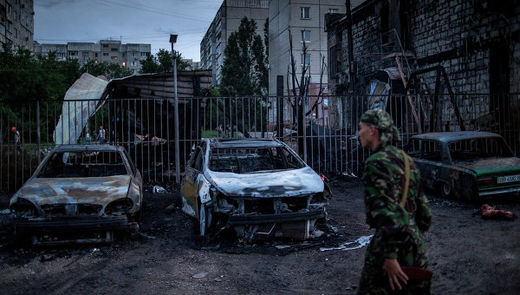 Dozens of civilians were killed and more than a hundred others injured last week in a massive shelling of
Luhansk
, a city in eastern Ukraine, the Organization for Security and Co-operation in Europe (OSCE) said Monday.
The OSCE said citing the local emergency services that the shelling occurred on July 18-19.
Members of the Special Monitoring Mission (SMM) in Ukraine went to downtown Luhansk, where they observed a large crater beside a bus stop.
"Shattered windows and shrapnel fragments in the walls of two nearby six-storey buildings were seen, and blood and body parts along the pavement and road," the OSCE said.
The monitors also saw "five houses reduced to rubble on the outskirts of the city" and "the remains of a rocket of an indeterminable type at the scene."
Reports on the number of victims in Luhansk attack vary, the OSCE said.
The head of the local emergency services department in
Luhansk city
said 20 people were killed and 150 others injured in Luhansk city on July 17-18. The head of the city morgue told the mission that 29 people, including five women, were killed on July 18-19.
"All but one were civilians," the OSCE said.
The head of the Ukrainian government's security operation in Luhansk province has earlier denied the country's military involvement in the shelling
, the OSCE statement said.
On Sunday, the city council press office said a total of 30 people were wounded over the past 24 hours in firefights in and around the city of Luhansk.
Luhansk has become a major hotspot in the clashes between rivals following independence referendums in May.
In mid-April, Kiev authorities started a special
military operation
in the east to suppress the pro-independence movement. Moscow has repeatedly called on Kiev to stop the bloodshed and seek a peaceful resolution through nationwide dialogue.