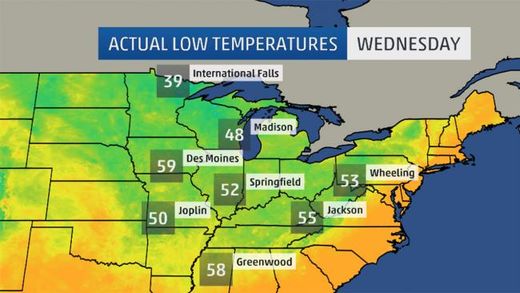 Temperature records set way back in the 1880s have been broken as unusually cool air is blanketing a large part of the country in the heart of summer. It will feel more like fall from the Upper Midwest into the South through this weekend. An unusually strong cold front for July began its southward plunge on Monday. The result is below-average temperatures for much of the East.
The potential for record lows and record cool highs extends all the way from the Northern Plains to the Gulf Coast.
Records Have Already Fallen
Record low temperatures were broken on Thursday morning. Mobile, Alabama dropped to 64 degrees breaking their record low of 65 set back in 1886! Record lows also fell in Atlanta, Georgia, Pensacola, Florida and Fort Wayne, Indiana.
Low temperature and cool high temperature records were also set across the southern Plains on Thursday. Many locations broke their record cool highs by more than 10 degrees, including Oklahoma City which only saw a high of 68 degrees.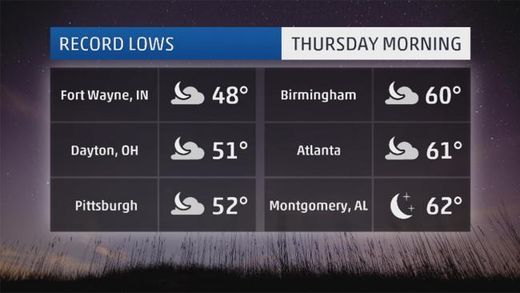 The chilly conditions began to be felt on Monday and record cool highs were set in parts of the Upper Midwest and northern Plains. Minneapolis set a record cool high of 65 degrees, breaking the record set back in 1884.
Over 20 record lows were broken on Tuesday morning. Temperatures dropped into the mid 40s in Rapid City, South Dakota and North Platte, Nebraska, setting new records for the date.
Record cool highs were also quite numerous on Tuesday afternoon, as temperatures did not warm much. Highs only climbed into the 60s for many in the Midwest and Plains.
It really felt like fall in Marquette, Michigan, where they set a record cool high on Tuesday of 53 degrees. This broke the previous record by 11 degrees! In fact, 53 degrees is the average high for October 15.
St. Louis also set a record cool high on Tuesday, as temperatures only reached 76 degrees, breaking the previous record of 77 degrees set back in 1891. Average high temperatures for mid-July should be in the upper 80s.
The record-breaking trend continued on Wednesday morning when Joplin, Missouri tied its all-time July record low of 50 degrees. Record lows were broken from Minnesota to Mississippi to West Virginia. Temperatures even dipped into the mid 30s in parts of northern Minnesota.
High temperatures were only in the 60s and 70s from the Plains to the interior Northeast on Wednesday afternoon. Goodland, Kansas only saw a high of 62 degrees, which broke their previous record by 10 degrees.
The Chill Will Continue
Heading through the second half of the week, more records are expected to be broken. The chance for record-low temperatures continues through Saturday, especially in the southern Plains where rain will help to keep the temperatures down.
Saturday morning the potential for record lows exists in parts of the Midwest and southern Plains.
Temperatures during the afternoons will remain on the cool side as well. Memphis may see highs struggle to reach 80 degrees through Saturday and record cool highs are in the low 80s, so look for records to be set.

Oklahoma City will also see a stretch of cool weather. High temperatures in Oklahoma City may only reach the low 70s, which would set record cool high temperatures. Average low temperatures should be in the low 70s for mid-July, to put the cool conditions in perspective.

So enjoy the cool and comfortable conditions now as they won't last too long. Temperatures are expected to return to closer to average next week, which means your air conditioner will only get a short break.