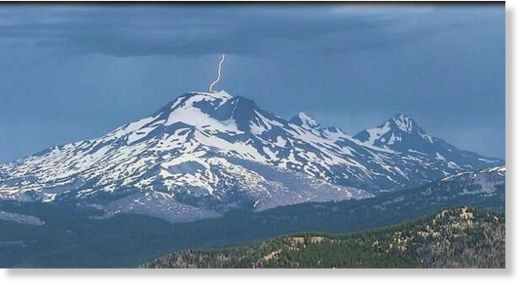 Thunderstorms rolled north through Central Oregon Sunday afternoon, accompanied by 3,400 lightning strikes that had crews scrambling to hit dozens of new, mostly small fires across the region -- some threatening homes on the Warm Springs Indian Reservation. A Klamath County fire grew to 600 acres and burned structures.
About 3,400 lighting strikes pelted the region between early Sunday morning and the evening hours, resulting in 65 smoke reports by early evening to the Central Oregon Interagency Dispatch Center in Prineville, said spokeswoman Jean Nelson-Dean.
Nearly half of those resulted from an intense late-afternoon thunderstorm that rolled through the Ochoco National Forest and Prineville District of the BLM, as well as private lands in Crook County, she said.
The largest new fire in Central Oregon was burning at the extreme southern end, four miles northeast of Cabin Lake, near Forest Service Road 18, about three miles north of the Klamath-Deschutes County border.
That fire was estimated at about 40 to 60 acres, with five engines, a 20-person crew and a water tender working the fire, along with a pair of single-engine air tankers (SEAT planes) making retardant drops.
"Few areas were left unaffected by the lightning
," the COIDC Sunday night update said, and while most fires were small, some were more challenging due to steep terrain or dry grass and brush that fueled their fast spread.
The storms first began hitting the Cascades around 6:30 a.m. Sunday and by late morning, fires were reported around Mt. Bachelor and Broken Top.
A flurry of smoke and fire reports began coming in around 1 p.m. and things stayed active through the day, she said.
The lightning strikes moved north and east toward the Crooked River National Grassland, then continued on into the Grass Valley area. Around 3 p.m., lightning began hitting the Maury Mountains and Much of the Ochoco National Forest.
Amid a red flag warning lasting until 11 p.m., the National Weather Service issued a severe thunderstorm warning just before 5 p.m. as a strong storm moved north from Deschutes River Woods.
The lingering storms prompted NWS to issue a red flag warning, which was due to expire at 11 p.m., though areas to the north and east of the High Desert are under the warning until 5 a.m. Monday.
While many of the resulting fires were caught very small -- a single tree, for the most part -- "we're still actively responding to quite a few fires that could get bigger," Nelson-Dean said.
One small but noteworthy fire burned on the west side of Mt. Bachelor, and had a half-dozen smokejumpers and a helicopter with water bucket working to contain it, she said.
Another fire near Sisters had a couple of engine crews on it for a time, while a new blaze in Cow Creek Canyon, nine miles southwest of Antelope, was "burning pretty actively" late in the day, and had two engines and a water tender on it. Also reported was a 40-acre fire on the Willamette National Forest, Nelson-Dean said.
Another hard-hit area: the Warm Springs Indian Reservation, with hundreds of lightning strikes in the area and nine small fires, some threatening structures, said William Wilson, assistant fire management officer.
Two of several small fires at Shaniko Butte were growing together and threatened several structures.
Sunday evening, residents of two homes were urged to leave due to the proximity of four fires that had burned 30-plus acres on Shaniko Butte, the tribes' top fire priority. Also put on alert was a community of 8-12 homes five miles southeast of the blazes.
More resources were called up, including a Jefferson County engine crew, to assist in structural protection, Wilson said. Other fires were being suppressed and kept small so far, but Wilson said the situation "remains fluid, and any one of the fires have the potential to grow large."
Smoke reports and small fires were tackled by crews at the single-tree stage in the early afternoon west of Bend in the Plainview area.
Later in the day, a big round of lightning resulted in new fires in the Maury Mountains and other areas across the Ochoco National Forest, bringing initial attack crews to find and put them out.
Hail also pelted areas of Bend, Sunriver and points south of the resort, where Carsen O'Neill said marble-sized hail hammered the neighborhood for about five minutes.
Meanwhile, nearly 400 firefighters were battling in rough terrain Central Oregon's largest blaze, the day-old White River fire, 12 miles west of Tygh Valley, which had burned about 570 acres by Sunday afternoon (a smaller size than earlier estimated due to improved mapping).
That fire, its cause under investigation, was burning in the steep, forested Whte River Canyon of pine, fir and oak trees, as well as grass savannahs, part of a wilderness area managed by the BLM and protected by the Oregon Department of Forestry.
The good news: The fire did not grow in size Sunday and was 15 percent contained, said ODF spokesman Brian Ballou.
No structures are immediately threatened by the fire, but there are widely scattered homes, cabins and other structures around the fire's fringe. The nearest community is Pine Grove, about 2 1/2 miles to the south.
Because the fire was burning on both sides of the river, the Mt. Hood National Forest asked kayakers to not use the Keeps Mill Campground launch site and others on the forest until river passage is safe.
The Cascades also were getting a lot of lightning strikes, and crews were responding to some small smoke columns south of Highway 242 near the Dee Wright Observatory on the Willamette National Forest, officials said.
Another fire, the Service Creek Fire, has burned about 375 acres in Wheeler County, two miles north of the junction of highways 207 and 19, mostly on BLM land, according to the Oregon Department of Forestry. Two structures have burned and a home was threatened, officials said.
To the south, in Klamath County, a new fire broke out Sunday afternoon and quickly raced across about 600 acres of heavy timber and brush on private land in the Moccasin Hills subdivision north of Sprague River, about 45 miles northeast of Klamath Falls. By early evening, officials said some homes and other structures had been lost, and over 100 people had been evacuated.
Two helicopters, 19 engine crews, three air tankers and a single-engine air tanker were part of the aggressive initial attack on that blaze, the cause of which was under investigation.
On Saturday, a wildfire was reported shortly after noon east of Madras. The human-caused fire started on the sixth hole of a disc golf course and burned toward the east.
It threatened one home atop a hill that crews protected and also prompted closure for a time of Ashwood Road, the road to the Deer Ridge Correctional Institution, said Rick Allen, incident commander for Jefferson County Fire District No. 1.