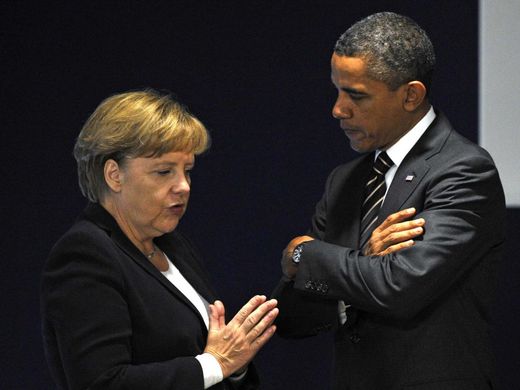 The German government has
asked the CIA station chief at the U.S. Embassy in Berlin to leave the country
, an unusual action between allies that represents a public expression of anger over reported cases of U.S. spying in Germany.
"The representative of the U.S. intelligence services at the Embassy of the United States of America has been requested to leave Germany,"
government spokesman Steffen Seibert said in a statement Thursday.
A day earlier, federal prosecutors in Germany said police had searched the office and apartment of an individual with ties to the German military who is suspected of working for U.S. intelligence. Those raids followed the arrest of an employee of Germany's foreign intelligence service who was
accused of selling secrets to the CIA
.
Seibert said the request for the CIA official's departure was made "against the backdrop of the ongoing investigations of the Federal Prosecutor General as well as the
questions pending for months about the activities of the US intelligence services in Germany
, for which the Lower House of Parliament has also established a parliamentary inquiry committee."
German officials have also been angered by the revelations of former National Security Agency contractor Edward Snowden of widespread U.S. surveillance in Germany. Among the targets was Chancellor Angela Merkel's cellphone, an operation that has since been halted.
"The Federal Government takes these incidents very seriously," said Seibert. "It remains vital for Germany, in the interest of the security of its citizens and its forces abroad, to cooperate closely and trustfully with western partners, in particular with the USA. To do so, however, mutual trust and openness are necessary. The Federal Government continues to be ready for this and expects the same from its closest partners."
U.S. officials had no immediate comment on the German government's action.
"We have seen these reports and have no comment on a purported intelligence matter," said Catlin Hayden, a spokeswoman for the National Security Council. "However, our security and intelligence relationship with Germany is a very important one, and it keeps Germans and Americans safe. It is essential that cooperation continue in all areas, and we will continue to be in touch with the German government in appropriate channels."
For years, Germany has sought to be included in a group of countries with which the United States has a non-espionage pact. Those nations include Britain, Australia, Canada and New Zealand.
The Obama administration and that of George W. Bush both resisted such entreaties, in part because many U.S. intelligence officials believe that there are too many areas where German and U.S. security interests diverge.
"The Germans do lots and lots of stuff and don't tell us everything they do," said a former senior U.S. intelligence official who worked extensively with Germany's Federal Intelligence Service, known as the BND. U.S. policymakers turn to the CIA and other agencies for deeper understanding of issues, including whether there are gaps between the two countries in their commitment to efforts to block any nuclear weapons ambitions by Iran, the former official said.
The crackdown may also reflect political dynamics in Germany, where
critics of Merkel have taken advantage of the Snowden leaks to cast her as weak for failing to grasp or prevent such extensive U.S. espionage
.
The arrest and raids are driven in part by "this business that they want a no-espionage agreement," said the former U.S. intelligence official. "But it's also being driven by internal politics" and the perception that the Snowden disclosures "made them look incompetent."
The arrest and raids in recent days have also generated concern that Germany may not be finished rounding up alleged U.S. spies. After the Snowden leaks, the CIA evaluated operations in Europe and put some on hold because of fears of exposure and ensuing tension with Germany and other allies, a second former U.S. intelligence official said.
The latest developments also exposed an apparent lapse by the CIA in keeping the White House apprised of setbacks in Germany.
A U.S. official acknowledged that when President Obama spoke with Merkel on July 3, he had not been told that a CIA informant had been arrested there the day before, a situation reported by the
New York Times
. Merkel did not raise the issue during the call.
Peter Finn and Greg Miller in Washington contributed to this story.