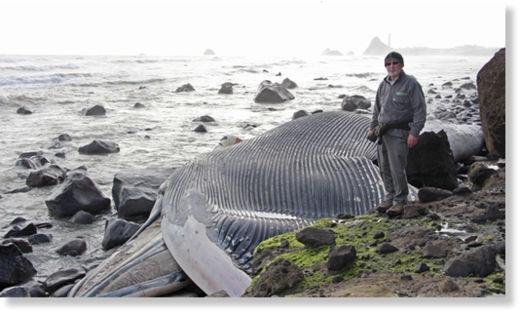 A large dead whale has washed up on a beach just south of New Plymouth.
The 20-25 metre long whale washed up on Tapuae Beach, near Okurukuru, and it is believed to be the largest species on earth, a blue whale.
Department of Conservation acting senior biodiversity ranger Callum Lilley said it's uncommon but not unusual for large whales to wash up along the coastline.
''There have been five dead blue whales washed up on the North Island's west coast between Wellington and Northland in the past five years, and a dead whale washed up on Waiinu Beach near Whanganui in 2011.''
Yesterday high tide limited rangers access to the whale but an examination would be undertaken today.
''It's often hard to determine cause of death,'' said Lilley. ''We are bringing in experts from Massey University to do a post-mortem examination which may give us a better idea.''
Local commercial fishermen and a ship leaving Port Taranaki had reported the dead whale may have been floating close off the Taranaki coast since at least Sunday.
Local iwi have blessed the whale.
Source: Taranaki Daily News