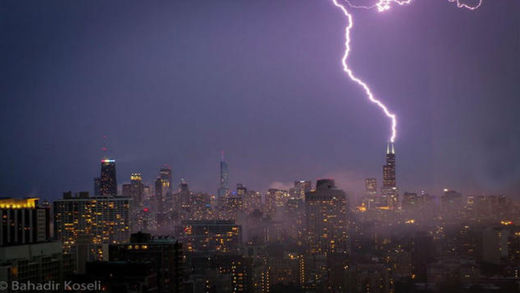 Damaging wind, large hail, lightning and heavy rain wreak havoc in Chicago area.
Residents are assessing the damage after tonight's severe weather passed through Park Forest, River Forest and Oak Park. NBC 5's Natalie Martinez reports.
A pair of thunderstorms lashed the Chicago area during the evening and nighttime hours Monday with a powerful punch of high winds,
near-constant lightning
and torrential rainfall.
National Weather Service data released Tuesday morning put Winnetka as the rainfall total winner, with 4.12 inches.
Other rainfall totals throughout the metropolitan area include: Glen Ellyn, with 2.82 inches; Chicago with 2.48 inches; Geneva, with 2.35 inches; Bolingbrook, with 2.24 inches; and Orland Park, with 2.14 inches.
A Tornado Warning popped up close to 10 p.m. in Cook and northern Will counties. Those storm cells moved through the southern suburbs and into northwest Indiana.
The National Weather Service reported
200 to 300 trees down
in the Grundy County town of Morris, about 60 miles southwest of Chicago. Many of the roads are blocked by trees and downed power lines, and up to
90 percent of the town was without power
.
The evening's rain led to
problems with flash flooding
. Viaducts were flooded at the all of the exits along the northern portion of Lake Shore Drive, including Irving, Montrose, Lawrence and Wilson.
The Village of Romeoville opened an Emergency Operations Command Center to deal with extensive flooding, downed trees and power lines.
Lightning turned out to be another issue Monday night. ComEd officials said 382,000 customers were knocked offline. That number continually decreased throughout the day Tuesday but a spokesperson said it would take several days before everyone would be restored.
Lightning is believed to be the cause of a fire at an apartment building at 15727 Peggy Lane in Oak Forest and another attic fire at a home in the 3600 block of Schillinger Court in Naperville.
High winds downed trees in River Forest, damaging homes in at least on neighborhood.
The storms also affected air travel Monday night.
O'Hare International Airport lifted a ground stop for incoming flights at about 7:45 p.m. but lengthy delays were still reported. More than 250 flights were been canceled as of 4:30 p.m.
At Midway Airport, all arriving flights on Southwest Airlines were canceled from 6-8 p.m. and lengthy delays were reported for incoming and outgoing flights.
At 4 p.m. the Chicago Fire Department issued an alert for all boaters to seek harbor.
A
Tornado Watch was issued
late Sunday night for several counties, and the National Weather Service reported a funnel cloud at about 2:15 a.m. in Crystal Lake but there was no confirmation of a touchdown.
Spotty showers are possible early Tuesday as humidity decreases.
A few showers are likely late in the day or evening Tuesday, and models show another round of showers Wednesday morning before the day turns cooler and less humid with high temperatures in the 70s.
The area dries out in time for the Fourth of July holiday. Thursday looks mostly sunny and pleasant with highs in the low to mid-70s, followed by an equally mild Fourth with similar conditions.
A few scattered showers or isolated storms are possible again throughout the weekend.