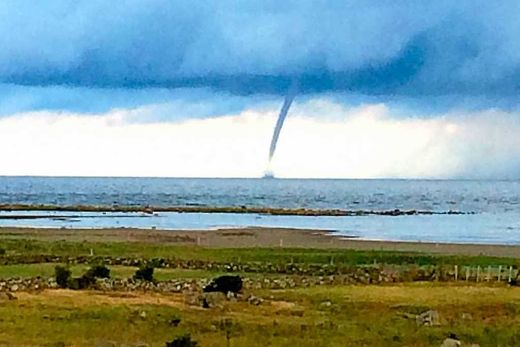 Tornadoes appeared on Friday morning off the coast of Varberg.
A concentrated storm front with thunderclouds, called thunder cells, moved on Friday morning in over the west coast of Sweden from Kattegat.
The tornadoes were visible off the coast of Varberg but then moved in over land and the remains of them were at 11 o'clock over Ulricehamn og Kinna.
On Sunday tornadoes were observed in both Malmö and in Bohuslän and in southern Norway a tornado was seen at the beginning of the week.
According to Christopher Hallgren, a meteorologist at Foreca, there have been more tornadoes than normal for this time of year.
- There are many now, it's exciting. Every summer, usually around ten tornadoes are reported around the country.
It has simply been favorable tornado conditions in recent times
, he says.
It is difficult to measure the strength of a tornado, which is formed by extremely strong winds.
- The worst may get up to wind speeds of 75 meters per second. The limit for the windspeed of the storm [category]is at 24 meters per second and for hurricane at 33 meters per second, so it's incredibly high winds.
Tornadoes form in thunderclouds. Thunderclouds contain vertical winds blowing upwards. The upward moving winds results in a decrease in pressure, which contribute to a low pressure cell. Uppvindarna makes the pressure decreases, contributing to a local low pressure. In the low pressure begins swirling winds and it gets these wind cones.
- The reason is that you see the tornado is that it pulls up dust or water, says Christopher Hallgren.
Translated by Sott.net