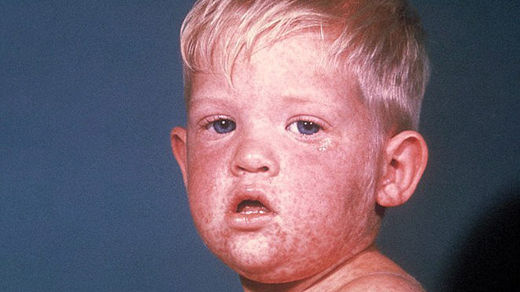 The Centre for Disease Control on Thursday released a report showing reported measles cases have reached a 20-year high, blaming the increase on the failure of Americans to take proper steps and get vaccinated.
According to the CDC, 288 cases of measles have been reported so far this year - the highest total in the first five months of the year since 1994 - with one in seven cases requiring hospitalization, according to
Mother Jones
.
"The current increase in measles cases is being driven by unvaccinated people, primarily U.S. residents, who got measles in other countries, brought the virus back to the United States and spread to others in communities where many people are not vaccinated," explained assistant surgeon general Dr. Anne Schuchat.
Included in the report is an outbreak of measles within an Ohio Amish community after unvaccinated missionaries returned from the Philippines, bringing the measles virus back to their insular community.
The Philippines is currently undergoing a severe outbreak of measles with over 20,000 reported cases resulting in at least 50 deaths.
Amish religious doctrine doesn't prohibit vaccination, however many families object to immunization.
According to the CDC: "90 percent of all measles cases in the United States were in people who were not vaccinated or whose vaccination status was unknown. Among the U.S. residents who were not vaccinated, 85 percent were religious, philosophical or personal reasons."
While medical research shows that vaccinations are safe and effective, an increasing number of parents are choosing to not have their children vaccinated for non-medical reasons.