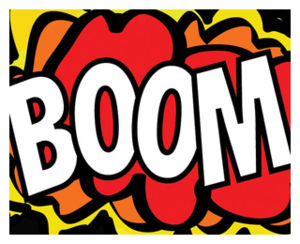 Was it a blown hydro transformer, a meteor flying through the atmosphere? It couldn't have been a UFO, could it?
Whatever it was, few people seem to know, at least not yet.
Numerous reports from local residents seeing a
flashing light and hearing a loud sonic boom
began running rampant on Orangeville-centric social media sites on Wednesday night (May 28).
Residents in a radius as wide as Howard Crescent near the Headwaters Health Care Centre to College Avenue near Credit Meadows Elementary School reported hearing the unidentified noise at about 9:30 p.m.
"Although I did not see a "flash," I did hear the very loud sound," Brett D Hancock posted on Facebook from Murray Court. "And it was extremely loud."
"By the hospital," echoed Jada Doucette. "My big bully went ballistic. Even made my daughter and myself jump. It was so loud."
Before jumping to rash conclusions about aliens, UFOs, meteors or any other phenomena, The Banner sought to eliminate some of the more plausible scenarios first.
According to Rob Koekkoek, engineer with Orangeville Hydro, the local utility has no evidence that one of its transformers blew last night. There is no evidence of any field issues either..
"There have been no related calls from our customers," Koekkoek said in an email. "It appears the noise is not related to our equipment."
Police and firefighters appear stumped as well. Neither Dufferin OPP nor Orangeville firefighters received any emergency calls about a sonic boom or flash of light, although fire chief Andy Macintosh admitted to hearing it.
"It didn't make me jump or anything," he said. "It was just a bang of some type. Don't know what it was."
Orangeville police Const. Scott Davis confirmed officers were called to investigate a
report of a loud noise and flash of "white light"
near Howard Crescent at 9:41 p.m. Responding officers, however, were unable to determine the cause or find any explanation for the apparent phenomena.
"We checked the area. We couldn't come up with a source for the noise or the white light, and that was it," Davis said. "That is the only report that we had."
That seems to strengthen the possibility of meteor flying through the atmosphere. As Orangeville Coun. Jeremy Williams pointed out on Facebook, the area is at the tail end of a unique astrological event involving thousands of meteors.
"It is possible, although nothing has been confirmed," Williams suggested. "Again, this is speculation at this point."
Jeff Renaud, senior media relations officer at the University of Western Ontario, told The Banner a
loud boom and flashes of light are consistent with what scientists would investigate as a possible meteor flying through the atmosphere
, but nothing has been confirmed yet.
"I'm not a scientist," Renaud pointed out. "But it sounds like something they would investigate."
If a meteor were to fall to the ground, Williams suggested the impact would register on seismic detectors. As he noted further, the United States Geological Survey isn't reporting any significant seismic activity in this region.
So, what actually caused the loud boom, and a flash of light? It's anybody's guess at this point.