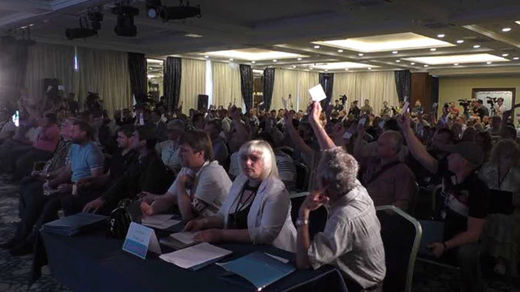 Self-proclaimed Donetsk and Lugansk People's Republics which recently held referenda on independence from Ukraine have declared the creation of Novorossiya union.
"We have signed a memorandum on the union,"
Denis Pushilin, co-chairman of the Donetsk People's Republic, told the media.
The new union will be called Novorossiya, said the people's governor of the Donetsk Region, Pavel Gubarev.
He added that the document was signed in the city of Donetsk by Donetsk People's Republic Prime Minister Aleksandr Borodai and the head of Lugansk People's Republic Aleksey Karyakin.
People's representatives from eight Ukrainian regions gathered for a congress in Donetsk on Saturday, a day ahead of scheduled countrywide presidential elections.
As a result of the congress, the south-eastern regions of Ukraine, where anti-government protests gained momentum, have announced the creation of a pro-federalization Popular Front socio-political coalition.
The movement accepted a manifesto vowing self-determination and protection of people from
"Nazi gangs' terror."
The coalition involves Odessa, Nikolaev, Dnepropetrovsk, Zaporozhye, Kharkov, Kherson, Donetsk and Lugansk Regions.
At the congress, all 145 delegates accepted the manifesto, which stresses that the Popular Front will consist of
"everybody, who is ready to resist self-appointed Kiev authority, which started war against the people."
The coalition vowed to protect innocent civilians from the
"terror of Nazi gangs, financed by oligarchs and foreign security services."
It also pledges
"a joint fight for people's rights to a decent life."
It says it has launched an investigative commission that will probe
"crimes of Nazi-terrorists and their Kiev patrons".
The coalition is calling for a boycott of the presidential election, which is scheduled to take place on Sunday, because
"all major candidates"
are
"oligarchs, whom we have already seen in top positions, hence, robbery and terror would continue,"
the manifesto said.
When it comes to a new Ukrainian constitution, the Popular Front demands that it guarantees
"neutrality"
and nonparticipation in military blocks as well as
"political independence",
"mechanisms to stop corruption and massive poverty."
The coalition also demands that the parliament consists of two chambers. At the same time, regions must be given
"a right to autonomy"
and
"independent foreign-economic activity".
In addition to that, regional governments must be given a right to "announce its territory de-militarized zones and also
"ban political, social and religious organizations on its territory"
in case they are considered a
"threat"
to the people.
The Popular Front wants two official languages in Ukraine - Ukrainian and Russian.
Lugansk and Donetsk People's Republics earlier announced they will not participate in Ukraine's presidential elections scheduled for May 25.