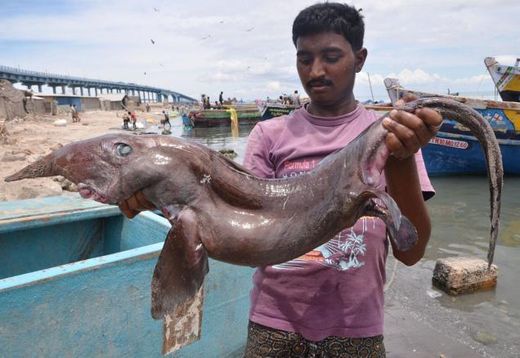 A day after catching deep sea lobsters, considered a 'prize catch,' country boat fishermen have caught rare fish, believed to be fully grown 'Rhinochimaera,'
a deep sea fish.
Fishermen, who ventured into the south sea for fishing in a motorised 'vallam' (country boat) on Friday morning and returned on Saturday morning, caught the fish while fishing about 40 nautical miles south of Pamban.
I. Litisan, who owned the 'vallam,' said the fishermen had gone to the deep sea looking for a better catch when they caught the rare fish. Each fish weighed about six to seven kg. As the fish were not consumed, they were cut into pieces for drying, he said.
Sources in the Central Marine Fisheries Research Institute (CMFRI) said the fish belonged to the Rhinochimaera genus and Chimaera family. The exact species could be confirmed only after a detailed study, they said. These fish could have migrated from the deep sea, they added.
Mr. Litisan said fishermen in his boat also caught about 50 deep sea lobsters, totally weighing about five kg. They were sold at Rs. 1,000 a kg, he said.
"We get such rare fish species, giant lobsters and prawns as the sea is undisturbed when the mechanised boat fishermen are staying away from the sea since April 15 when the 45-day ban period began," he told
The Hindu.
R. Roosevelt, who was engaged in fishing and trading, said country boat fishermen in the Pamban region used to get a range of fish such as Groupers, Basslets, Goat fish, Anchovies, Travallies, whitings, Barracudas, Pomfrets, Seer and Halfbeaks, besides crabs and lobsters.
They said there were about 800 motorised country boats in Pamban area alone and the fishermen ventured into both the north and south sea for fishing. On a given day, 500 boats would venture into the sea and the average day's catch from all the boats would be around 35 tonnes, Mr. Roosevelt said.
While crabs and lobsters were exported to foreign countries, the other varieties were sold in the domestic market, he said. About 7,000 families in the region depend on fishing for their livelihood, he added.