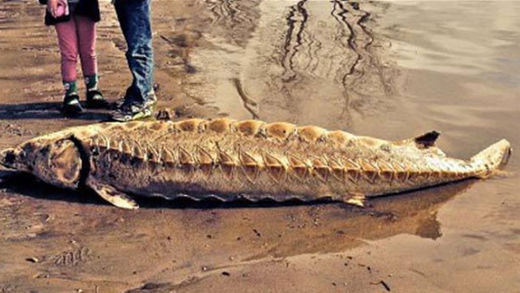 The rare nearly 7-foot-long Atlantic sturgeon that weighs about 100 pounds was found Saturday near Elys Ferry Road.
"It had been here a while, it started to decay...started to smell," said eyewitness Gary Weed.
This fish is labeled an endangered species by the Connecticut Department of Energy and Environmental Protection.
State experts are taking a closer look at the big discovery at the DEEP Marine headquarters in nearby Old Lyme.
"We had seen a few wash up in Long Island Sound the last couple of years, the same size or pretty close, but this is the largest we've seen in the river so far," said Tom Savoy, who is a DEEP fisheries biologist.
Savoy studied the remains and said it was an immature female, maybe 15 years old. Atlantic Sturgeon could live up to 75 years old and grow up to 15 feet long.
There is a population of the fish that live along the lower part of the river. If you hook one, you're asked to release it because DEEP officials said they are a protected animal. There are only thousands left along the east coast.
"We do caution people, they are a federally-listed species, so their not supposed to take them out of the water or cause them undo harm," Savoy said.
Savoy said he can't determine exactly how this one died,
but if you ever see one, you'll know and have your own "fish story" to tell.
"Its different. It really is different. Something you don't see everyday."