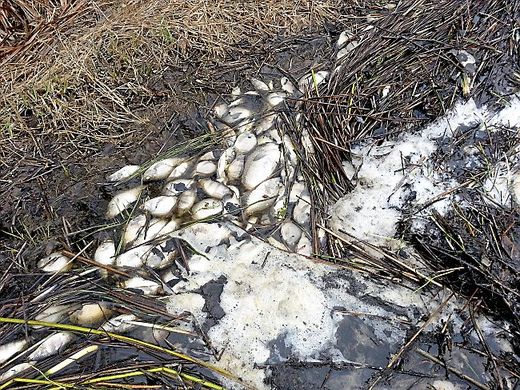 The fish began piling up along the western shore of Grand Lake near Duluth on Monday, not long after the ice had gone out. Pushed by a strong east wind, thousands of dead fish washed up in reed beds and the front yards of lakeshore residents.
Perhaps as many as 35,000 fish died, said Dan Wilfond, fisheries specialist for the Minnesota Department of Natural Resources at French River, although he cautioned that that was a rough estimate.
The fish, victims of winterkill -- low oxygen levels -- included sunfish, crappies, walleyes, northern pike and largemouth bass, Wilfond said.
Grand Lake, a 1,600-acre lake between Saginaw and Twig, is popular with anglers.
"It was disheartening," Wilfond said. "It was a pretty severe kill."
Tim Goeman, DNR regional fisheries supervisor at Grand Rapids, said he was not aware of other lakes across northeastern Minnesota that have suffered winterkill.
Winterkill occurs when dissolved oxygen levels get too low during winter for fish to survive, Wilfond said. It typically takes place on shallow lakes with lots of aquatic vegetation or high nutrient levels, Goeman said.
Grand Lake is 24 feet at its deepest, but just 1 percent of the lake is deeper than 15 feet, Wilfond said. The lake has historically suffered some winterkill events, he said. The last severe winterkill on Grand Lake was in 1955-56.
Walleye numbers in the lake have decreased in recent years as bass and panfish populations have increased. As a result of the winterkill and a subsequent void in the lake's fish numbers, the DNR plans to stock the lake with walleye fry (tiny, just hatched fish), Wilfond said.
"Maybe we can get the walleye population up and running," Wilfond said. "Because of the void, there will be a lot of forage for them."
The DNR had been stocking walleyes in Grand Lake for a time but discontinued it several years ago due to poor returns, Wilfond said.
"But in our management plan, we said we would reintroduce walleye stocking in the event of a winterkill," he said.
The DNR plans to stock 755,000 fry each year from this year through 2016. This year's fry stocking likely will take place in a couple of weeks, Wilfond said.