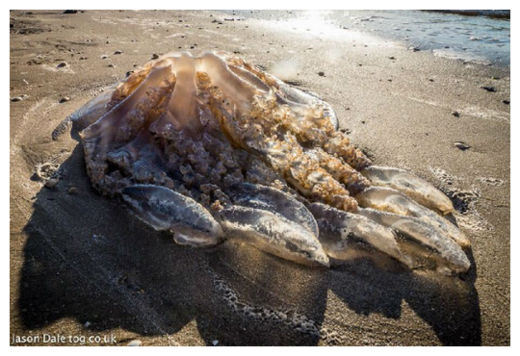 Monster jellyfish have landed on the beaches of south west Wales. And there are warnings many more could be on the way.
Surprised visitors discovered the two foot wide creatures on the sands of Ferryside in Carmarthenshire. The giant barrel jellyfish can grow up to 3.5ft wide and can sting, but they it is not powerful enough to harm humans. Jason Dale from Machynys in Llanelli said he couldn't believe his eyes when he spotted the huge creature on the shore.
The 43-year-old, who owns an internet company, said: "It looked like something out of
Doctor Who
- it was some alien creature.
"I have never seen a jellyfish this size, it was at least 2ft wide. I was surprised to see it."
Barrel jellyfish the size of wheelie bins have already washed up on beaches along the English coast, with 30 being spotted in Portland in Dorset alone. Experts believe the jellyfish invasion has been caused by heavy flooding. The plankton, which jellyfish feed on, is also so rich due to the amount of nutrients in the sea.
Usually, the jellyfish can be found in the warmer waters of the Mediterranean but a trail of them are being left stranded on the shore by south westerly winds and strong tides.
Mr Dale said he believed the marine animals, which weigh 35kg, were heading to Britain due to the waters around the coast heating up.
He said: "I think because of the warm waters there's more jellyfish coming through - they are coming up from the channel.
"I saw hundreds of jellyfish in Llangennith a few years back."
Marine life experts have warned beach visitors to stay away from the shallow parts of the shoreline and to not approach the sea creatures if spotted.
Wildlife photographer Steve Trewhella, aged 50, added: "I think that the numbers we have seen so far are the tip of the iceberg. Jellyfish are a form of plankton and one of the possible reasons we are seeing such high numbers at the moment is because of the plankton bloom."
He added he believed the floodings in rivers had also had an impact on jellyfish numbers.
If you are stung, seek medical help.