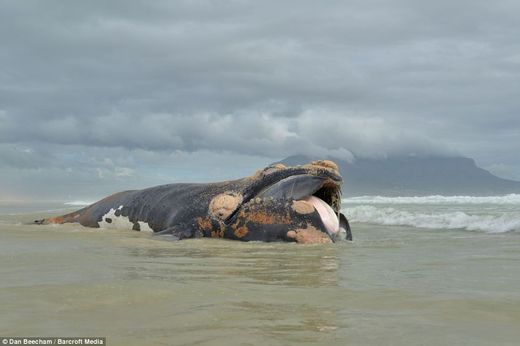 * Southern right whale washed up on Sunset Beach after
apparently
being hit by a ship
* It took 20 helpers and two diggers to haul the 20-tonne carcass onto a flatbed truck
* The three-hour clean-up job was shot by British photographer Dan Beecham
Children shrieked in disgust as removal men tore the tail off a whale carcass in a botched attempt to take it from the beach where it had washed up.
It took 20 helpers and two industrial diggers to haul the 20-tonne southern right whale on to a flatbed truck, before being driven to a landfill site.
The clean-up job was captured by British photographer Dan Beecham, 30, at Sunset Beach outside Cape Town, South Africa, against a backdrop of the city's distinctive Table Mountain.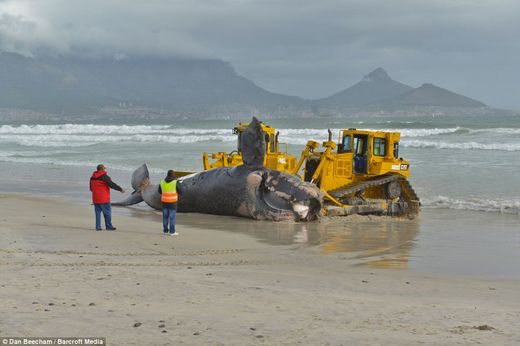 He said: 'When I arrived a small crowd had gathered around the beached male. A few minutes after I arrived, representatives from the City of Cape Town authorities arrived and set up a cordon.
'The authorities got to work right away to get the whale off the beach.
'But one botched attempt involved trying to drag the poor beast from its tail but it ended in the lifting strop tearing through the tail, pulling it clean off with a disturbing guttural sound, followed by screams of horror from all the on-looking children.'
After three hours the 10m-long whale was eventually lifted on to the flatbed and driven away to be disposed of.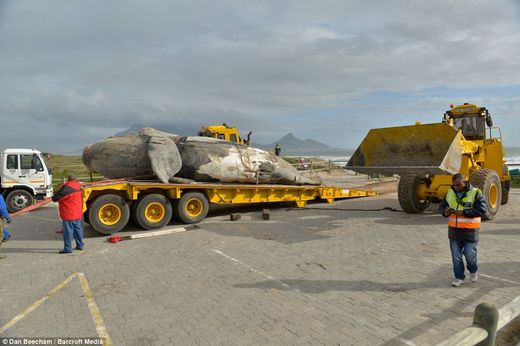 Mr Beecham, from Abingdon, Oxfordshire, believes fishermen or an accident may have killed the animal.
He added: 'Someone who saw it when it first washed up said it had a lot of line on it, perhaps from nets, so it could have been an entanglement or a combination of entanglement and a ship strike.'
According to folklore, the explanation for the right whale's name is that they were the 'right' ones to hunt, because they float when killed and often swim within sight of the shore.