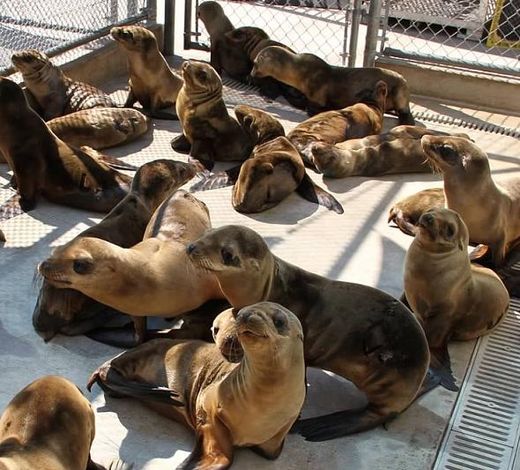 Another 650 sea lion pups have washed up on the shores of California between San Diego and Ventura County in the last two months, emaciated and dehydrated, continuing a pattern of devastation from early last year.
A new report from the National Oceanic and Atmospheric Administration (NOAA) all but eliminates disease as a cause of the problem that saw another 1,600 pups stranded on beaches between January and April last year. While it does not settle on a single culprit, the report points a long finger at the decline of sardines in the region, a primary source of nourishment for sea lions.
"Current data show changes in availability of sea lion prey in Southern California waters was likely a contributor to the UME, the exact mechanism is still under investigation," the report concluded. In other words, the NOAA doesn't know precisely why the sardines are harder to find. Could be climate change, or ocean pollution, natural selection, or disease taking advantage of sea lions' weakened state.
It's probably a bit of all of the above, but the folks at Oceana, an international ocean conservation organization, don't think the most obvious reason is hard to figure out. The sardine population is collapsing because of overfishing, they say, and the NOAA is going out of its way to avoid admitting that conclusion. Instead, the agency is emphasizing its rehab effort to save the stranded pups while continuing its studies of the cause.
"Sea lions are dying due to starvation and NOAA appears to be addressing it by spending money on rehab, but they are allowing continued overfishing," Oceana reported. "They are rehabilitating starving sea lions and then putting them back into a sardine starved ocean."
NOAA scientists published a major study in 2012 warning that collapse of the sardine population was imminent and following the same patterns that occurred during the historic collapse of the sardine fishery in the 1950s. That debacle put an end to the famous Cannery Row era. The report noted that "exploitation rates" of sardine stocks have increased dramatically since 2006 and in 2010 hit the rate at which horrible things happen.
NOAA has declared the sea lion situation an Unusual Mortality Event (UME). The agency has declared only 57 UMEs in the U.S. since 1991. The agency's sardine stock assessment (pdf) in March 2014 found sardine populations had collapsed 74% since 2007 with no evidence of recovery in sight.
Oceana summed up the NOAA policy thusly: "In other words, NOAA's pattern is to first deny a population collapse while continuing fishing, then once it has collapsed, blame events other than fishing."
Lisa Harper Henderson at the Marine Mammal Center told NBC affiliate KSBY that the practical effect of shifting sardine populations is that they have moved farther off the coast, swim at deeper depths and are harder to find by sea lions. "So when they end up on our shores, they're weak, lethargic and sometimes injured," she said. Not to mention hungry.
California sea lions range from the Pacific coast of Central Mexico to British Columbia, Canada. The estimated population of California sea lions as of 2011 was 296,750, with an annual increase of 5.4%. The main breeding areas are on islands located in Southern California, western Baja California and the Gulf of California.
Sardines are a key food group for animals other than sea lions. Seals, elephant seals and humpback whales, many of which are also found along the Channel Islands, chow down on the fatty little fish. The numbers and locations of sardines and other pelagic fish, including anchovies, market squid, rock fish and hag, fluctuate a lot, making specific assessments difficult during any brief time period.
But the sardine decline is not some brief event and the sea lion devastation is not ecological business as usual.