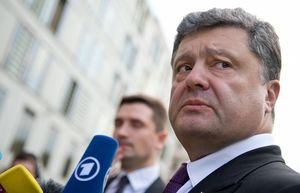 Ukrainian presidential nominee Petro Poroshenko on Tuesday called on the authorities in Kiev to go as far as laying mines at television towers to block access to Russian television channels for Ukrainians.
"Today, we need to protect TV towers and lay mines there if necessary. Anyway, it is impossible to allow our people to be exposed to the Russian propaganda because that is creating a big problem," Poroshenko said in a live interview with Ukraine's ICTV television channel.
Poroshenko thanked all Ukrainian television channels for an initiative to remove all TV series and films about the Russian army from air.
Poroshenko earlier told media he had provided assistance to Euromaidan protesters in Kiev. "Euromaidan" is the unofficial name for anti-government protests in Ukraine that started when President Viktor Yanukovych refused to sign an association agreement with the European Union last year to study the deal more thoroughly.
Tigipko: Kiev authorities lose opportunity for dialogue with south-east
In the meantime, another presidential candidate, Sergei Tigipko, told ICTV television company on Tuesday that the interim authorities in Kiev had an opportunity for dialogue with Eastern Ukraine but were unwilling to use that opportunity.
"I melt when asked whom they should talk to in southeastern Ukraine. We are talking about the country's unity but we are unwilling to accommodate the country's (southeastern) regions," Tigipko said in his live interview.
"The Donetsk and Lagans regions have a total population of 7 million. There are many brave and responsible people there, Heroes of Ukraine who are respected in society. And you say you do not know whom to talk to there. I believe that they (the interim authorities in Kiev) simply do not want to talk to anybody because they are afraid of losing their ratings in Western Ukraine," the presidential candidate stressed, saying the authorities in Kiev were either failing or simply could not react to the needs of people residing in the east and south of Ukraine.
"What have they done?" Tigipko put a rhetorical question. "They have done nothing except for launching an anti-terror operation to which there is no end in sight," he said, replying to his own question.
In Tigipko's view, the authorities in Kiev "were losing a war in the minds of people who have stopped believing them and have started hating them instead.
The situation in Ukraine is far from stable after the country saw a coup in February. New people were propelled to power amid riots as President Yanukovych had to leave Ukraine citing security concerns the same month. Russia does not recognize the de facto Ukrainian authorities.
After Crimea's accession to Russia on March 18 following a referendum two days before, protests against the new Ukrainian leaders erupted in Ukraine's Russian-speaking southeastern territories, with demonstrators seizing some government buildings and demanding federalization.
Kiev has been conducting a punitive operation against pro-federalization activists.
The eastern Ukrainian Donetsk and Luhansk regions held referendums on May 11, in which most voters supported independence from Ukraine.