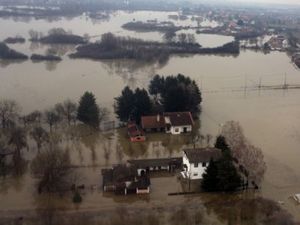 Flood waves on several rivers and their tributaries in Serbia have prompted the evacuation of at least 440 families in the last two days, leaving thousands of people without water and power supply.
An emergency situation has been declared in five municipalities, but there have been no casualties. The damage caused by the floods that have hit parts of the western, central and eastern Serbia is not possible to estimate until the rivers recede.
Serbian Ministry of the Interior official Predrag Maric told reporters that firefighter and rescue services were in the flooded areas, adding that water supply in several towns and in some settlements was being made difficult by problems in the power grid.
Following heavy rain- and snowfalls in the country, river levels have been rising for the third day in a row, and landslides have closed several local and major roads.
A new flood wave is expected in the Western Morava River due to a temperature rise and the melting of snow in western Serbia. Maric said the current situation was also due to the poor maintenance of drainage canals, a problem which he said had been present for several decades.
A snowfall which in the last few days has hit western Serbia, with drifts as high as 70 centimetres, has caused extensive damage to growers of raspberries, one of Serbia's most profitable farm export products.