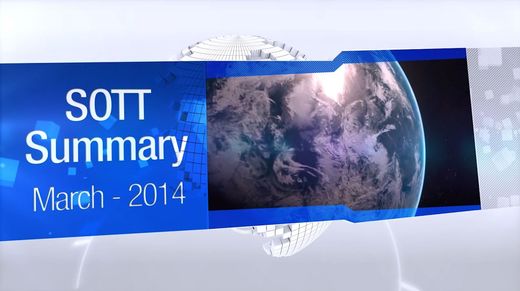 Signs of the Times in March 2014
The third installment in our new monthly series, the following video compiles footage of 'signs of the times' from around the world during March 2014, connecting the dots between planetary upheaval, social upheaval, and 'cosmic weather' in the form of meteor fireball activity.
The month opened with wild waves hitting the West coast of both the U.S. and Europe, while a string of strong earthquakes 'ripped' the whole length of the Ring of Fire along the Americas. The so-called 'Polar Vortex' returned as much of North America was again plunged into a deep freeze in what seemed like the winter that would never end. Despite suffering both drought and wildfires in February, Washington state was hit with a deluge in March that caused a devastating landslide and claimed 20 lives.
Several serious explosions in apartment complexes occurred in both the U.S. and Europe. Ruptured gas pipelines are assumed to be the cause, but officially they remain unexplained. Interestingly, one of the month's many large urban environment sinkholes opened right outside the Harlem explosion that killed 8, and investigators found unusually high levels of natural methane gas in soil samples from the scene, suggesting localized methane outgassing may have played a role in the buildings' sudden obliteration.
Extreme drought was blamed for a massive die-off of animals in Colombia, yet there was record flooding in neighboring Bolivia. California somehow experienced record drought, record rainfall and record wildfires all in the same month... along with a rare tornado that damaged homes. The weird 'winter wildfire' season continued, with hundreds of wildfires breaking out across the U.S., even as the country was plunged into another deep freeze and battered with heavy rainfall from strong storms. Meanwhile a once rare event, but now occurring several times annually, saw another large tornado hit northern Italy on 23 March.
As meteor fireballs lit up the night sky in Canada, Korea and Central Europe, rare hailstorms hit the Middle East, India and South China, and high drama continued in Ukraine as Crimeans told Obama what they thought of the idea of joining the Western empire by voting to rejoin Russia instead.
In what could well be the most incredible High Strangeness event of the year, an entire commercial plane carrying over 200 people from Kuala Lumpur to Beijing apparently vanished into thin air. Despite many false leads into what
might
have happened, to date there is no evidence of the plane having crashed or been hijacked...
Knowledge protects, ignorance endangers
For those who can't view YT videos, watch it on Vimeo: