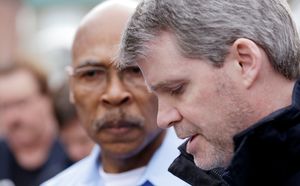 In the aftermath of the Steelhead Landslide in Snohomish County, which has claimed a still-unknown number of lives, eyes are turning towards the actions of Snohomish County Department of Emergency Management Director John E. Pennington.
The monster mudslide, which obliterated a community of almost 50 homes and vacation cabins, apparently took county officials by surprise - despite the fact that slides have occurred on the site for at least 60 years, most recently in 2006.
The
Seattle Times
on Monday reported that Pennington, appointed to his post in 2006 by controversial ex-SnohomishCounty Executive Aaron Reardon, said, "It was considered very safe. This was a completely unforeseen slide. This came out of nowhere."
However, the
Times
reported that geologists had warned of a major slide since at least 1999; further, global warming experts pointing to more rainfall in winter months are already suggesting the Steelhead mudslide could be the "new normal."
Pennington made headlines just after Hurricane Katrina, as
the Seattle Times
and area hyperlocal news blogs reported he had no disaster experience when he was appointed by then-President George W. Bush to head the Pacific Northwest Federal Emergency Management Agency -- the position he held before landing the job in Snohomish County.
According to the
Times
, before his appointment in 2001, Pennington had been a Republican state legislator with a college degree from a mail-in correspondence course that the newspaper's sources described as a "diploma mill."
The newspaper compared Pennington's experience with that of former U.S. Undersecretary of Emergency Preparedness and Response Director Michael Brown, widely criticized for his inadequate response to the Hurricane Katrina disaster.
Brown was appointed to the FEMA post by President Bush after being driven out of his previous position - and forced to buy out his employment contract -- as Judges and Stewards Commissioner for the International Arabian Horse Association.
When the
Times
singled out Pennington for scrutiny regarding his lack of emergency management experience in 2005, members of Congress were calling for federal regulations requiring emergency managers to have a track record in the field, rather than allowing such positions as "political patronage."
Pennington was appointed by former Snohomish County Executive Aaron Reardon, himself driven out of office last year over several allegations of corruption and an extra-marital affair.
Current Snohomish County Executive John Lovick - formerly county sheriff but appointed to the executive job last year in the wake of Reardon's resignation - wiped tears from his eyes at a Monday press conference on the disaster site.
Despite his own stormy tenure as sheriff - some five lawsuits are pending over deaths in custody at the county jail - Lovick has been seen as the right man to bring stability to county government.
He is running for election to the post.
Lovick told KIRO reporter Dori Monson this week that the devastation is overwhelming. (
Listen to their radio interview here
)
"I had a gentleman walk up to me and tell me his 13-year-old son is missing and I had a lady tell me her entire family is missing. You know me, I'm a family man, I have youngsters," he says. "The fact of the matter is I can't tell them anything and I can't stand there and say 'I know how you feel,' because I truly don't know how they feel. This has never happened to me and all we can do is do what we are all doing - hope and pray for them."
Experts report that increases in warm, winter rain due to global warming trends
mean more landslides are likely in the future for Washington State - already a landslide-prone area.
SnohomishCounty last year established a
"Sustainable Operations Management Plan" to reduce greenhouse emissions.
However - unlike King County's and Multnomah County's in Oregon -
the "action plan" does not include tips or resources for how global warming impacts residents in their homes.
Meteorologists report that
March rainfall in the Snohomish County town of Everett is currently at more than 250 percent of normal.
For more on Snohomish County's emergency response,
click here
.
Homepage photo courtesy Gov. Inslee's Communication Office