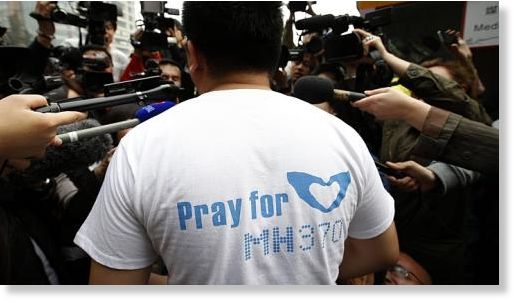 A Malaysian team have told relatives of Chinese passengers on board the missing Malaysia Airlines (MAS) flight MH370 that there was sealed evidence that cannot be made public, as they came under fire from the angry relatives at a briefing on Wednesday.
The sealed evidence included air traffic control radio transcript, radar data and airport security recordings.
The briefing at the Metropark Lido Hotel in Beijing focused on UK satellite analysis which led Malaysia to conclude that flight MH370 ended in south Indian Ocean, off Perth.
The Chinese relatives were told that a five-member high-level team from Malaysia plans to brief them once every five days. The team include MAS pilot Lim Jit Koon and senior civil aviation official Ahmad Nizar Zolfakar.
During the question-and-answer session, a relative said: "Thanks for demonstrating your ability to read every word out of the powerpoint slides."
Another asked: "If the info is from UK satellite firm Inmarsat, does it mean the Malaysia team cannot answer our questions on the MH370 analysis?"
Faced with the barrage of questions from the angry relatives, the MAS team replied: "We can answer but we might not be correct as we're not the investigators".
They said Malaysia had requested for the British experts to join them for the briefing in Beijing but the latter declined.
They assured the relatives that the search and rescue operations for the plane have been stepped up but the hunt has been challenging as the search area is huge.
The Malaysian government and MAS have been criticised for their handling of the disappearance of MH370 on March 8. They have been accused of being slow in disseminating information and not revealing everything about the incident.
Prime Minister Najib Razak said on Monday night that based on latest UK data analysis, the plane had gone down in a remote part of the southern Indian Ocean.
"We demand you retract announcement that MH370 ended in south Indian Ocean and continue search-and-rescue operations,'' one relative said at the briefing.
Some family representatives targeted Malaysian envoy Iskandar Sarudin, asking him: "You expect us to accept a report you cannot defend?"
"No comment,'' said Mr Iskandar.
He again declined to comment when asked "how do you expect us to feel friendly towards Malaysia?" Upset by the response from the Malaysia team, a relative said: "You have once again left us speechless!"
Wednesday's briefing was the first time the media were allowed to attend. The relatives also accused MAS of not providing enough assistance to them. "Two-thirds of MH370 passengers are Chinese but only 50 caregivers?" asked a relative.
An airline official explained that they have had problem finding volunteers to help out.
When asked why the MAS office at the hotel was closed on Tuesday, the MAS officials said they were advised by the Chinese government not to be there given the tense mood among the relatives.