Comment: Is anyone else noticing how low the US has fallen as a result of their Ukrainian misadventure? Someone needs to tell them to stop digging, although we don't think they know what else to do other than keep on "catapulting the propaganda".

True, President Obama didn't quite say the above, but he did say "Freedom isn't free" at the E.U.-U.S. summit today, as part of a really weak effort to convince his reluctant NATO allies to "chip in" for the "collective security" of its members in Eastern Europe.

Obama's statement is nearly identical to the lyrics from a song in 'Team America: World Police', a movie that lampooned American special forces going around the world and blowing it up in order to 'save it'!

Have a listen: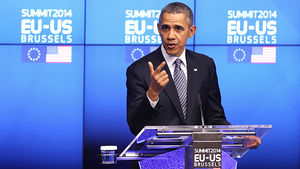 NATO must have a sustained presence in countries that feel "vulnerable" to Russia, US President Barack Obama said at a meeting with EU leaders in Brussels. He added that neither Ukraine nor Georgia was currently being considered for NATO membership.
Obama insisted that contingency plans had to be examined and "updated" to guarantee "that we do more to ensure that a regular NATO presence among some of these states that may feel vulnerable is executed." The comments came during a four-day trip to Europe by the US president.
However, Obama expressed concern that defense spending in Europe had fallen in several countries across the continent. "If we have collective defense it means
everyone has to chip in
, and
I have concern about diminished efforts by some in NATO
," he said.
"Our freedom isn't free,"
he said, adding that it was necessary to "pay for the assets, the personnel, the training... for deterrent force."
Anders Fogh-Rasmussen, Secretary-General of NATO, displayed public support for a heightened NATO presence after meeting with Obama during his Brussels visit.
"I join Barack Obama in considering additional NATO measures: updated defense plans, enhanced exercises, appropriate deployments," Rasmussen tweeted Wednesday. He added that cooperation with Ukraine may be enhanced.
NATO spokeswoman Oana Lungescu confirmed on Twitter that updated defense plans, enhanced exercises and appropriate deployments were being reviewed.
However, while there have been several discussions over whether Ukraine and Georgia will be fast-tracked for EU membership, Obama rebutted the possibility during his Wednesday speech. He said that neither of the two countries is "on a path" to NATO membership and that it would be "unrealistic" to expect the situation to change anytime soon, on account of the complicated relations between Moscow and Kiev.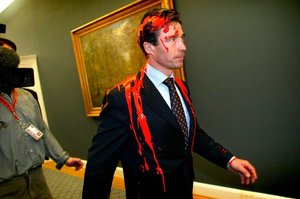 The deployment and presence of US military forces have been of great concern to Russia with NATO's possible advance to the East considered a direct threat.
As such Russia's position was voiced by Defense Minister Sergey Shoigu back in November. A few months earlier, Prime Minister Dmitry Medvedev said that having "new NATO members" close to Russia "changes parity of forces" and that Russia will have to react. Back in June, Medvedev stressed that NATO is "a structure with a certain military potential, which could be used against Russia" under adverse circumstances.
Meanwhile, the US military have been amassing forces in Europe.
On March 13, US F-16 fighter jets took part in military exercises at Lask airbase in Poland. The US military are also planning large scale war games in Poland, which would involve troops from several eastern European states, the American ambassador to the country, Stephen Mull, said last Friday.
Shortly afterward, it was announced that in July, military exercises under the title of Rapid Trident 2014 are to take place in Ukraine. US Army Europe (USAREUR) will be heading up the exercises.
Their purpose is to "promote regional stability and security, strengthen partnership capacity and foster trust while improving interoperability between the land forces of Ukraine, and NATO and partner nations," according to the US Forces in Europe's website.
The exercises have taken place annually in Ukraine for a number of years. However, given the international commotion that has been generated by the Ukrainian crisis, Rapid Trident 2014 will take place under entirely different circumstances than last year's event.