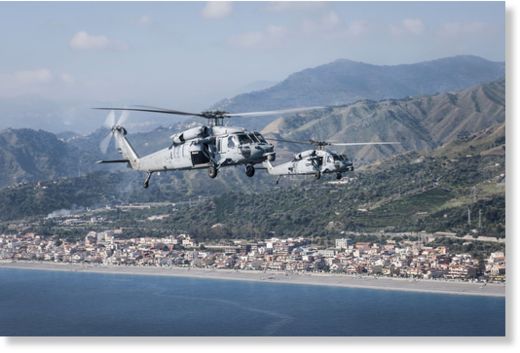 As a desperate search continues to find the missing Boeing 777, here are some more mysterious disappearances in the same area.
Search and rescue teams are scouring the seas for a sign of the missing Malaysian Airlines flight MH370 - but it's not the only plane to go missing in the area.
From a single pilot trying to break the England to Australia air speed record, to passenger flights vanishing over the sea, the incidents have left aviation experts baffled.
The Boeing 777 jetliner vanished early Saturday morning with 239 people on board. The flight left Kuala Lumpur at 4.41pm GMT bound for Beijing, but less than 50 minutes later it lost communication with air traffic control. It last had contact with the ground around 120 miles off Kota Bharu over the South China Sea.
At least 10 countries, including Vietnam and China, are taking part in the search, which involves 42 ships and 39 aircraft.
According to data compiled by the Aviation Safety Network (ASN), 83 aircraft which carried more than 14 passengers have been declared missing since 1948 across the world - and that doesn't count the smaller aircraft.
Here are some more planes that have disappeared in the area:
Pan Malaysian Air Transport in 1993
A Pan Malaysian Air Transport plane disappeared on January 31, 1993, within Northern Sumatra. It was en route from Medan-Polonia Airport to Banda Aceh-Blang Bintang Airport, both in Indonesia. The Shorts SC.7 Skyvan 3-100 disappeared over mountains, and the last reported position was at 8500-foot, 67 miles from Medan. It was carrying 14 people, 11 of them passengers and three crew, and no one was seen alive again.
Upali Air flight N482U in 1983
The Upali Air flight N482U disappeared on February 13, 1983, 20km off Kuala Selangor, Malaysia, in the Malacca Straits. It was carrying six people - three of them passengers and three crew. The Learjet 35A was en route from Kuala Lumpur airport in Malaysia to Colombo-Katunayake, Sri Lanka.
The corporate jet was carrying Sri Lankan multi-millionaire businessman Upali Wijewardene. The last radio contact, according to ASN, was 15 minutes after takeoff when the pilot reported he was climbing. The pilot was supposed to contact Medan but never did. A survival pack, believed to be from the Learjet, was found a few days later but no more clues were ever found.
Garuda Indonesia Airlines in 1961
In one of the largest air disasters in the area, the Garuda Indonesia Airlines flight PK-GDY disappeared off Madura Island in Indonesia on February 3, 1961.
It was en route from Juanda Airport to Sultan Aji Muhamad Sulaiman Airport, both in Indonesia, when it mysteriously vanished. The five crew and 21 passengers were never seen again, and it is believed the plane crashed into the sea.
Weather reconnaissance flight Swan 38 in 1974
Hurricane Hunter flight Swan 38, from the 54th Weather Reconnaissance Squadron, was lost during Typhoon Bess in 1974 somewhere over the South China Sea. The typhoon had slowed to still strong 75 mph winds, and Swan 38 was sent out to provide reconnaissance information on October 12.It reportedly departed Clark Air Base in the Philippines and was 400 miles northwest of Clark AFB when the last radio contact was made. Search and rescue teams spent four days scouring the sea but no trace was found, according to wunderground.com.
The six crewmen were declared missing and presumed dead.
Charles Kingsford Smith's Lady Southern Cross in 1935
Charles Kingsford Smith, known as Smithy, was an Australian airman who set his sights on beating the England to Australia air speed record. He set out on November 8, 1935, in his Lockheed Altair monoplane, the Lady Southern Cross, but lost contact with the ground somewhere over the Andaman Sea. He was never seen again and it is unclear what happened to his plane - but it is thought it crashed into the sea.
GW Salt and FB Taylor's private plane in 1932
English planters, GW Salt and FB Taylor went missing along with their plane over the Gulf of Martaban in southern Burma on August 12, 1932. They were flying from Moulmein (Mawlamyine) to Rangoon (Yangon) in Burma, in a huge attempt to get all the way to England. Their small plane G-AAKA is believed to have crashed into the sea. The wreckage of a plane was spotted in September that year in the Gulf of Martaban - but it was never confirmed as the planters' plane.