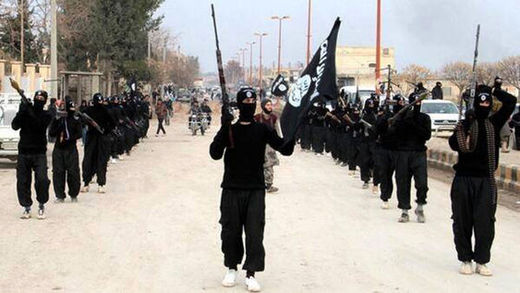 This undated file image posted on a militant website on Tuesday, Jan. 14, 2014 shows fighters from the al-Qaida linked Islamic State of Iraq and the Levant (ISIL) marching in Raqqa, Syria. Once a vibrant, mixed city considered a bastion of support for President Bashar Assad, the eastern city of Raqqa is now a shell of its former life, transformed by al-Qaida militants into the nucleus of the terror group's version of an Islamic caliphate they hope one day to establish in Syria and Iraq. In rare interviews with The Associated Press, residents and activists in Raqqa describe a city where fear prevails, music has been banned, Christians have to pay religious tax in return for protection and face-veiled women and pistol-wielding men in jihadi uniforms patrol the streets.
Once a vibrant, religiously mixed community, Syria's eastern city of Raqqa is now a shell of its former self, terrorized by hard-line militants who have turned it into the nucleus of their vision for the Islamic caliphate they hope one day to establish in Syria and Iraq.
In rare interviews with The Associated Press, residents and activists in Raqqa describe a city where fear prevails. Music has been banned, Christians have to pay an Islamic tax for protection, people are executed in the main square and face-veiled women and pistol-wielding foreigners in Afghan-style outfits patrol the streets enforcing Shariah restrictions.
Raqqa, on the banks of the Euphrates River, is now the only city in Syria fully under the control of the Islamic State of Iraq and the Levant, the
al-Qaida
breakaway group that is considered the most ferocious of the militant factions that have latched onto the revolt against President Bashar Assad's rule. Black Islamic banners flutter on street corners and atop buildings - including churches - as the extremists put their strict Islamic stamp on the city.
"They have taken us back to medieval times," said one resident. He and three other residents - all in the city except one who recently fled to Turkey - spoke to the AP by Skype on condition of anonymity for fear of retribution by militants.
It was exactly a year ago that an alliance of Islamic brigades and other rebel groups swept into the city, cheering as they brought down the bronze statue of the late President Hafez Assad. Others tore down a huge portrait of his son Bashar, the current president, hitting it with shoes in euphoric scenes captured by activists and posted online.
Raqqa, a city of 500,000, became the first and only provincial capital to fall into rebel hands, drawing comparisons to Benghazi, the first major city in Libya to revolt against Moammar Gadhafi and become a rebel stronghold. The city had been considered a bastion of support for Assad, with its tribal leaders firmly in his camp. Residents were wary about the takeover, some happy to be free of Assad's control, but many worried about how rebels would rule.
Now residents and anti-government activists say Raqqa has come to symbolize everything that has gone wrong with the revolution meant to achieve freedom and democracy after 40 years of rule by the Assad family.
The Islamic State of Iraq and the Levant, also known by its acronym ISIL, was formed last spring by the head of al-Qaida's branch in Iraq, Abu Bakr al-Baghdadi, to expand his operations into neighboring Syria. His barging into the Syria conflict sparked bloody clashes with other rebel factions and prompted al-Qaida's central command to kick him out of the terror network.
Flush with cash, weapons and experience, the group has capitalized on the weaknesses and divisions of the Western-backed opposition, and the world's failure to take decisive action to help the rebels.
In early January, ISIL fighters expelled rival rebel factions from Raqqa, including militants from the al-Qaida-linked Nusra Front. Their numbers swelled as ISIL fighters and loyalists pulled out of some areas it controlled further west in Syria and moved to Raqqa in the face of assaults and threats from rival rebels.
Now around 5,000 ISIL loyalists are in the city, almost all foreigners, including Iraqis who seized most of the key administrative positions, Tunisians, Gulf Arabs and Chechens, residents said.
"Raqqa is the nucleus for the Islamic State of Iraq and the Levant's nascent Islamic state," said Thomas Joscelyn, a senior fellow at the Foundation for Defense of Democracies. "Their laws govern virtually every aspect of public and private life."
Al-Baghdadi, he said, has "delusions of grandeur and believes that he is the rightful new Caliph."
Residents say the situation has become suffocating.
"People are scared of the Islamic State the way they used to be scared of intelligence agencies," said one resident. "You walk in the streets of Raqqa and feel that you are in Chechnya."
Once the call for prayers starts, shop owners are forced to close down to head to the mosque. Some unfurl prayer mats in front of their shops to save time.
Veiled female Islamic State loyalists bully women in the street who don't cover themselves in the all-encompassing niqab, the black robes and veil that leave only the eyes exposed, said another resident, who asked to be identified only as Abu Ibrahim. Women in niqab are accosted if they don't wear gloves to hide their hands. Abu Ibrahim said he saw an elderly woman shoved by ISIL women when she lifted her veil off her face to catch her breath.
Cafes once packed with smokers puffing on cigarettes and water pipes have been closed down. Music has been banned. Alcohol bottles are smashed and cigarettes are confiscated and burned. Street posters lecture against smoking and urge women to cover up.
The city's main square, Clock Square, has been turned into an execution ground. The militants beheaded a man there in late January, accusing him of insulting the Prophet Muhammad. A number of people accused of being Assad spies have been shot to death. Last month, a man and a woman accused of adultery were publicly stoned - though not to death. The militants pelted them with stones, but let them live as warning to others and imprisoned them, several of the residents said.
A report this week by the U.N.'s Commission of Inquiry on Syria cited war crimes committed by both government and opposition forces, particularly the Islamic State.
It cited several incidents that occurred in Raqqa last year. In June, a woman was tortured and threatened with rape for "disrespecting" the Shariah Council, the body set up to impose Islamic law. In October, a 26-year-old man was detained, beaten and hung up by his arms on the grounds of his sexual orientation. A school headmistress was publicly lashed for not wearing a headscarf.
In October, ISIL fighters knocked the cross off the Church of Saidat al-Bishara, replacing it with the group's black banner, and established an Islamic outreach center in the building.
More recently, the group imposed an Islamic tax on Christians in Raqqa. The Islamic State said in a statement that the Christians opted for paying the tax when they were told to choose one of three options: convert to Islam, remain Christian and pay the tax or "refuse and be considered warriors who will be confronted with the sword of the Islamic State."
The residents said most Christians, who made up about 10 percent of Raqqa's population, have long fled. One resident said around 20 families remain.
Abu Ali, a secular anti-government activist from the central city of Palmyra, moved to Raqqa and bought an apartment last year after it was "liberated," thinking he would be safer there. He recently fled to Turkey after Islamic State militants ransacked his apartment, confiscated his laptop, telephone and a pistol he carried for his own protection.
"I had to leave. Was I to wait until they kill me?"