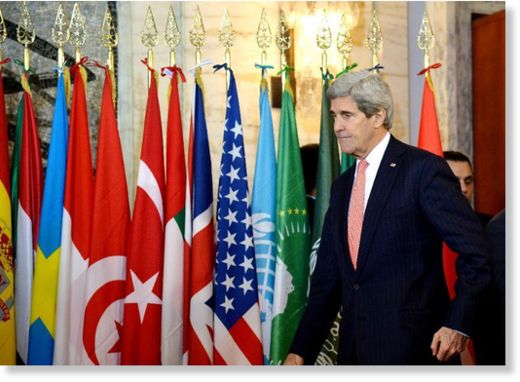 US Secretary of State John Kerry insisted Thursday that "Crimea is Ukraine", after pro-Moscow lawmakers on the tense peninsula voted to have their region become part of Russia.
"Crimea is part of the Ukraine. Crimea is Ukraine. We support the territorial integrity of Ukraine, and the government of Ukraine needs to be involved in any decision" on whether the peninsula would split off, he told journalists in Rome.
"It's my understanding that the constitution of Ukraine requires an all-Ukraine referendum. Every part of Ukraine, all Ukrainians, would have to be part of a referendum," he said.
His comments came after US President Barack Obama warned that a referendum in Crimea on joining Russia would violate Ukrainian sovereignty and international law.
However, Kerry said the United States' priority was to "continue the intense discussions with both sides in order to try to normalize and end this crisis".
Though the United States would "keep faith" with sanctions already put in place -- such as visa bans and the freezing of assets belonging to those deemed to have played a part in destabilizing Ukraine -- the emphasis in "the next few hours and days" was for dialogue that could lead to a de-escalation of the situation.
"While we reserve the right to take steps beyond those things that were announced today, we want President Putin and Russia and everyone to understand our preference is to get back to a normality," he said.
Kerry was speaking after talks with Russian Foreign Minister Sergei Lavrov on the sidelines of an international meeting in Rome on Libya.
Lavrov was quoted by Russian news agencies after the talks as saying that there was so far no agreement between Moscow and Washington on Ukraine, but said he would inform President Vladimir Putin about "concrete prospective steps" put forward by Kerry.
The US secretary of state said that he and Lavrov "agreed to stay in close touch in order to see if there's a way forward to try to get to the negotiating table".
He said the West was in favour of setting up a contact group on the crisis, but stressed that Ukraine had made it clear it would only take part in such a group if Moscow speaks directly with Kiev, which Moscow has so far refused to do.
Kerry denied there were divisions within the EU over whether to impose sanctions against Russia or not, saying there were "no differences whatsoever".
While Russia "does have some interests in the region", they need to be "dealt with according to the law", he said, adding that the key issue was protecting Ukrainians' rights and respecting "their hopes and aspirations, which they died to achieve".
Source: AFP