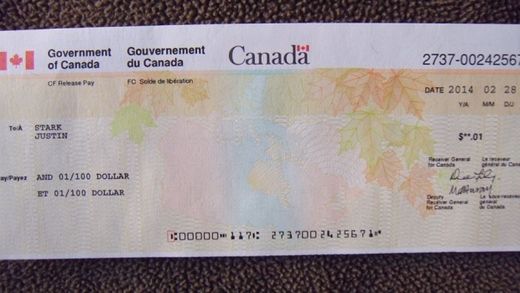 The mother of a Hamilton soldier who committed suicide over two years ago is incensed that the federal government sent her dead son a cheque for one cent just a few days ago.
Cpl. Justin Stark, an infantry soldier with the Argyle and Sutherland Highlanders of Canada, killed himself in the John W. Foote VC Armouries in Hamilton in October 2011. He was 22 years old.
Stark's mother Denise received a cheque in the mail from the federal government a few days ago - presumably for owed military pay - said Keven Ellis, the president of the North Wall Riders Association, a motorcycle club that supports soldiers and their families with fundraising and events.
"It's humiliating and degrading," said Ellis, who is speaking on behalf of the family as Stark's mother is just "too distraught."
"It took the wind out of her sails.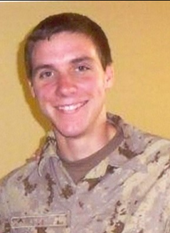 It's been 2½ years and she gets a cheque in the mail from the government addressed to her son for one cent? This woman lost her son, and it seems like all these things keep falling on her."
Stark began a seven-month tour in Afghanistan in May 2010 after being a part of the armouries in Hamilton for four years. His duties included patrols of Nakhonay, a village southwest of Kandahar city.
His mother has been dealing with military tribunals for years to determine whether or not his death was work related. All that stress has crippled her emotionally, Ellis said. She still visits his grave every single day.
"Every day is a major struggle for her. To lose her son like that is devastating," he said.
During question period in the House of Commons on Tuesday, Hamilton East-Stoney Creek MP Wayne Marston asked how this could have happened.
"After all his mother has gone through, this is inexcusable. Mr. Minister," Marston said. "What will be done to ensure that this will never happen to another grieving mother again?"
Minister of National Defence Rob Nicholson said he agreed the situation was "absolutely ridiculous."
"I extend the apologies of ... everyone in the government to his mother. And we thank this individual for the service that he gave his country," he said.
"That being said, Mr. Speaker, this is an insensitive bureaucratic screw-up. I've just learned of it now and I will take steps immediately to ensure that something like this should never happen again."
Ellis told CBC News that the Stark family is looking for action, not apologies.
"If it had been in the first year, she would have understood. But this is inexcusable," he said.
At the end of the day, this is a young man who defended our country. He deserves better.