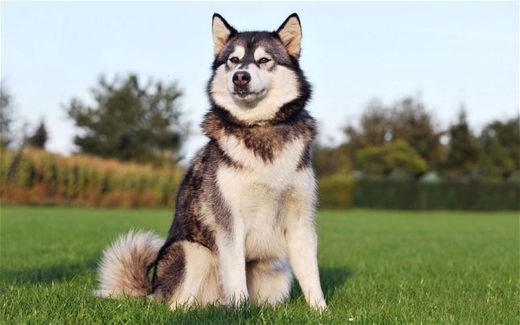 Baby girl Eliza-Mae Mullane from Wales was just six-days-old
A baby girl who died after a suspected attack by the family dog was just six days old and had only returned home from hospital three days before.
Eliza-Mae Mullane died at the University of Wales Hospital in Cardiff after emergency services were called to a home in Pontyberem, Carmarthenshire, Mid Wales.
The tragic infant had only just returned home after spending three days in intensive care in hospital after being born last week.
A neighbour told how her frantic mother Sharon John, 42, came running to her house screaming after her daughter was found dead next to their pet dog Nisha.
Patricia Punter, 70, said: "She was in a hell of a state and couldn't stop crying. She almost fainted when she told me what had happened."
Dyfed Powys Police seized the dog, an Alaskan Malamute, after being called to the property in Pontyberem, Carmarthenshire, South Wales, at 8.30am today.
The baby was airlifted to the University Hospital of Wales in Cardiff, the Welsh Ambulance service confirmed.
The family are believed to have taken in Nisha a few months ago after Sharon's partner Patrick Mullane, 33, bought the animal home from a night out at the pub.
Neighbour Patricia Punter, 71, said: "They'd had the dog for a few months because Pat is really soft for dogs.
"He brought it home from the pub because someone had told him they were going to get rid of it.
"Nisha was about five or six years old but looked older. I think it may have badly treated in the past.
"God only knows what has gone on in there. But Sharon was in bits - she was with a policeman and they wouldn't let her back into the house.
"She came into my house to use the toilet and that's when she told me what happened to the baby.
"She'd only brought the baby home in the last week. It is just awful - they loved their dogs as much as their children."
mumof6daughters Gemma O'Driscoll Horrendous news from Pontyberem. Has shocked the whole community.
Sharon has two other children Harley, five, and Lily-Rose, three, in their terraced house.
Police said Eliza-Mae was dead by the time the ambulance arrived in the quiet street.
Chief Inspector Ieuan Matthews said: "We had a call from the ambulance service just before 8.30am.
"There was a sudden death of a six-day-old girl. Our hearts go out to the parents who are hugely distressed by what has happened.
"We have taken the family dog into our possession and inquiries are continuing.
"A specially-trained family liaison officer is with the parents who will return to their home later."
Police confirmed a post mortem examination will be held to investigate the cause of death before they would confirm it was a dog attack.
Alaskan Malamutes are not banned breeds and were originally bred for work on sleds in the Arctic but have recently become popular family pets.
The Alaskan Malamute Club of the United Kingdom describes the breed as a "affectionate, friendly, loyal, devoted companion" on its website.
An ideal Alaskan Malamute is "heavily boned, powerfully built", it says.
Ann Williams, who lives nearby, told the BBC she saw two ambulances and then a dog vehicle arrive at the house at around 9.30am on Tuesday.
She said: "We are shocked and saddened; what else can you be? We have grandchildren of our own.
"You don't expect to have this in your own street."
New Road in the village has been cordoned off by police and a dog section van was seen at the house on Tuesday afternoon.
Alan Lewis, chairman of Pontyberem Community Council, said: "We are only a village of 2,500 to 3,000.
"It is a huge shock for the particular community. Our thoughts go to the family involved, obviously.
"From what I understand, the police are still continuing their investigations and the area is cordoned off."
Mr Lewis described Pontyberem as "an ex-mining community village."
The family has been described as a "young family."
A spokesperson for Dyfed Powys Police said: "Inquiries are ongoing. Further updates will be made available as appropriate."