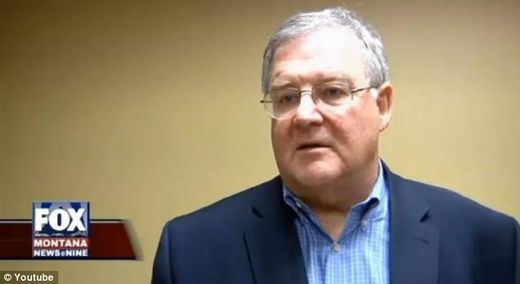 A federal investigation into a county courthouse has revealed a shocking catalogue of claims that sex assault victims were routinely discriminated against and ignored.
In one case, it is alleged a prosecutor in Montana left a five-year-old rape victim's mother horrified when he explained away the attack by saying 'boys will be boys'.
According to a report, the mother of the child said she wanted to know why the boy who raped her daughter was only getting a slap on the wrist.
Missoula County Attorney Fred Van Valkenburg has angrily denied claims in a report that prosecutors routinely discriminated against sex attack victims
The U.S. Department of Justice found Missoula County Attorney's prosecutors refused legitimate cases, pushed sex crimes to the lowest of priorities and belittling women who came to them for help.
It added that sex assault cases rarely make it to the courthouse, because they are a low priority to county prosecutors.
Jocelyn Samuels, acting assistant Attorney General for the Civil Rights Division, said: 'We uncovered evidence of a disturbing pattern of deficiencies in the handling of these cases by the County Attorney's Office, a pattern that not only denies victims meaningful access to justice, but places the safety of all women in Missoula at risk.'
The department began an investigation in 2012 into the county attorney's office, Missoula Police Department and the University of Montana's Office of Public Safety.
Investigators interviewed more than 30 potential victims while reviewing policies and procedures for signs of gender bias and civil rights violations.
One woman claimed a prosecutor recited Bible verses to her, and others said they felt 'judged' when they were grilled about their sexual histories.
Another said she 'would never suggest' another woman go to prosecutors with a sexual assault case.
County Attorney Fred Van Valkenburg angrily denied the allegations and said the real problem was the federal investigators.
Van Valkenburg told the Missoulian: 'First and foremost, I think that this is one of the most unfair, unethical things that I have witnessed in 35 years of public life.
'It's impossible to believe these things are true. This is not how the Missoula County Attorney's Office Conducts itself. These are half-truths, mistruths and maybe even outright lies.'