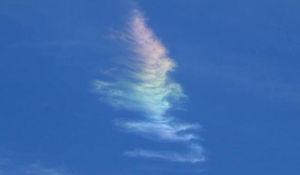 A tramper has spotted an unusual "rainbow" cloud in North Canterbury.
Pauline Bennett, of Hanmer Springs, took a photo of the iridescent cloud while walking along a ridge above the Clarence River.
She said the cloud hung above the Molesworth hills for about five minutes, giving the trampers a chance to photograph it before the light changed.
MetService meteorologist John Law said Bennett's images were a "great example" of iridescent clouds.
"They are higher-level clouds made of small ice particles or water droplets of similar size which scatter sunlight to give this great effect," he said.
Law said the clouds were rare and hard to spot. "They normally form relatively close to the sun in the sky, so can be hidden by the glare."
The colours on the clouds were caused by diffraction, Law said. Light "bends" around the edge of cloud droplets, diffracting "white" light into the spectrum seen on the clouds.
"As different colours of light are diffracted more than others this is what causes the sunlight to separate into the different colours.
"Because the size of the gap needs to be similar or smaller to the wavelength of light, it is not a phenomenon that happens all the time."