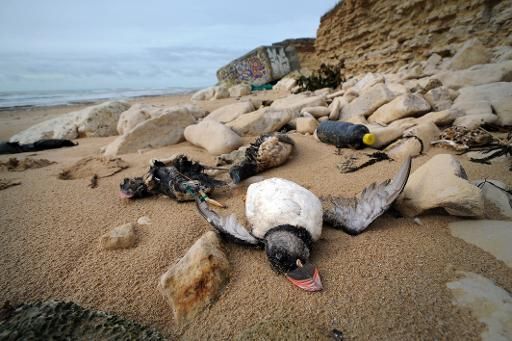 Storms decimate puffin colonies on French coast
The Atlantic storms that have buffeted Europe in recent days have killed at
least 5,000 sea birds
on the French coast, half of them puffins.
Most of the birds whose bodies have been washed up on beaches between the Pyrenees and Brittany died of exhaustion or starvation as a result of days of gale-force winds which made it impossible for them to fish, officials with the national Bird Protection League (LPO) told AFP.
"It started a fortnight ago but there has been a big increase in the numbers over this weekend," said the LPO's Olivier le Gall.
Photo taken on February 10, 2014 shows the bodies of puffins washed up on a beach in Sainte-Marie-de-Re, western France, after heavy storms
After puffins, guillemots have been the species most affected, followed by razorbills and kittiwakes.
Although most of the bird deaths were caused by the weather conditions, the LPO said there had also been some caused by pollution as a result of cargo ships taking advantage of the inclement conditions to dump noxious gases at sea.