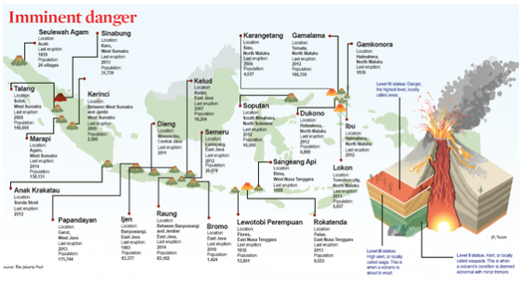 The government has raised the status on another 19 volcanoes in the country to alert level - the second-highest category - in the wake of the Mount Sinabung eruption in North Sumatra that killed 16 people on Saturday. Besides the 19 new additions, three volcanos have been on high alert status since last year. They include Lokon and Karangetang in North Sulawesi and Rokatenda in East Nusa Tenggara. The National Disaster Mitigation Agency (BNPB) issued the raised status on Monday for the 19 volcanoes, which are scattered across the archipelago, but has yet to call for the evacuation of populations living nearby.
The 19 volcanoes are Kelud, Ijen, Bromo, Semeru and Raung in East Java; Lewotobi Perempuan in East Nusa Tenggara; Ibu, Gamkonora, Dukono and Gamalama in North Maluku; Soputan in North Sulawesi; Sangeang Api in West Nusa Tenggara; Papandayan in West Java; Dieng in Central Java; Seulewah Agam in Aceh; Talang and Marapi in West Sumatra; Anak Krakatau in Banten; and Kerinci in Jambi. Indonesia is among the world's most seismically active countries, situated on the Pacific Ring of Fire, an arc of volcanoes and fault lines encircling the Pacific Basin. The 19 volcanoes are among about 127 active volcanoes in Indonesia. Mt. Sinabung has been sporadically erupting since September. Though the alert level for the 19 volcanoes had been raised, Sutopo called on nearby residents not to panic. "Volcanoes erupt in stages, they won't suddenly erupt. Their activity can be categorized from normal to waspada [alert] to siaga [high alert] to awas [danger, the highest level]," he said on Monday.
He said that the BNPB was now keeping an eye on Mount Kelud, whose status was raised to alert following intensified volcanic activity. The BNPB decision to raise the status of Mt. Kelud had triggered panic among local residents. Local officials in Kediri have issued a warning to people living close to Mt. Kelud to stay outside a 2-kilometer radius set by the The Center for Volcanology and Geological Disaster Mitigation (PVMBG). On Saturday, at least 16 people were killed and three others severely injured due to pyroclastic clouds emitted by Mt. Sinabung. Previously, the volcano's ongoing eruptions had claimed the lives of 31 evacuees from various illnesses such as depression, asthma and hypertension. Rescuers had to halt operations due to fears of further eruptions. Currently, the evacuation zone is between 5 and 7 km on the southeast slope of the volcano. Sixteen villages had to be evacuated following the eruptions.
Meanwhile, responding to the BNPB report, Coordinating Minister for People's Welfare Agung Laksono called on people living close to the volcanoes to remain calm. "[The raising of the alert status] is to raise awareness among government officials and members of the public so that they can anticipate the worst from the early stage," Agung said as quoted by Antara news agency. Agung said that the population in a disaster zone should heed government instructions to evacuate in the event of a volcanic eruption. "We ask for cooperation from residents. If the local government decides to evacuate their neighborhood they have to follow the procedures," Agung said. The country has been battered by a string of natural disasters in recent months.
Authorities in a number of disaster-prone regions have been warned about the potential for worsening disasters, including landslides and floods, due to heavy rains nationwide. In West Java, the PVMBG advised that people living in landslide-prone areas in Ciramba and Mekarmulya subdistricts, Cikalong district, Cianjur, should be relocated. In Jombang, East Java, 14 people were buried by a landslide on Monday. Seven bodies have been recovered, while the other seven remain missing. In Semarang, a landslide displaced 32 families from the Tangkil Baru residential complex in Sukorejo subdistrict, Gunungpati district, whose houses were destroyed. Last week, sections of the Java's northern coastal highway were inundated by floodwaters causing a major traffic disruption. In East Java, the flooding disrupted traffic from Situbondo to Surabaya.
Jakarta Post